This article was a collaboration of Kevin and Caroline (who did 90% of the work).
(Kevin) If there was anything in Atlanta that would compete for our love of collegiate football, it would be Braves baseball.  In the South, we love tailgating and the two seasons compliment each other very well.  The days and nights get warmer as the spring season continues on, and after playing plenty of ladder golf and corn hole, I can't be wearing something stuffy.  Equally as important as figuring out which local brew you're going to pack into the cooler is maximizing your clothing choice for staying cool and feeling confident.
(Caroline) My first priority when I go to a baseball game is comfort. Lots of standing, lots of walking, and then lots of sitting, usually in the sun, possibly spilling beer and crumbs on myself. With that in mind, stay casual. It's baseball, y'all. Save the dressing up for fall football tailgates.
For the hip guy…
Hat | Atlanta Braves hat (this one is from Lids)
Shirt | We Are The Process (red Tommys)
Shorts | Jack Donnelly Dalton (khaki, flat front)
Belt | Martin Dingman (William)
Shoes | Tretorn Nylite from Sid Mashburn
Flask | Mullholland all leather 6oz captive top flask
For the prep guy…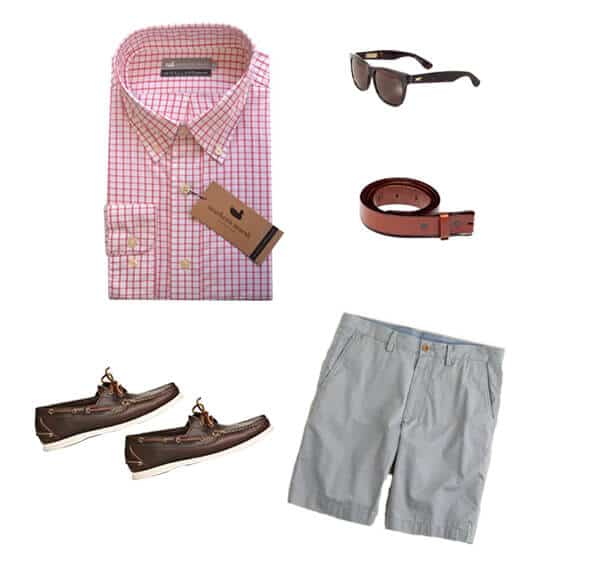 Sunglasses | Red's Outfitters
Shirt | Southern Marsh Mallard Tattershall (Claiborne red)
Shorts | J.Crew 9" Club Short (cool grey)
Belt | Sid Mashburn 1" bridle strap
Boat Shoes | Oak Street Bootmakers
For the hip girl…
Sunglasses | Lookmatic Austin (tortoise cream)
Belt | Madewell braided
Camera | Fuji Instax (have the most fun camera in the group)
Shirt | J.Crew linen baseball tee
Shorts | Anthropologie Pilco Stet Roll-Ups
Shoes | TOMS Classics (ash canvas)
For the prep girl…
Caroline is a Texan living in Georgia. She is a full time photographer and runs the southern style blog Back Down South. She is a huge fan of her husband, warm weather, traveling, eating good eats and drinking good drinks. She is not a fan of cargo shorts or writing in third person...