The beach, the lake, the river, the pool, the…slip 'n slide? If it's got water, it's time we're in it, folks.
Personally, I love a short inseam on swim trunks, 5" being perfect on just about every guy (in my opinion). Though, if you're brave enough to sport a 4", you'll make me smile a very platonic smile as I admire your bravery and man thighs. And for the "bros" who spend most of their time on the water on a board of some sort, no, you don't have to shop at PacSun. Options for everyone, people! Swim on.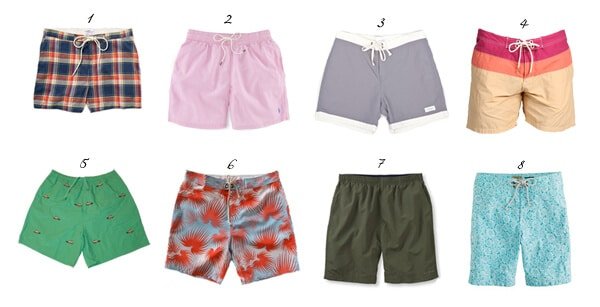 Checked | GANT for Bonobos (4") – Not short enough? Bravery is this 3" pair.
Seersucker | Ralph Lauren Hawaiian (5")
Retro | Saturdays Surf NYC (5")
Color block | Scotch & Soda  (6")
Embroidered | Castaway Clothing Woody (7")
Board Shorts (fan palms) Strong Boalt (7.5")
Classic | L.L. Bean (8")
Board Shorts (floral) | J.Crew topsail (9")
I've found myself loving and wearing one pieces more than bikinis in the past two years. But, if your sole priority is to get your tan on and show off your hot bod, bikini it should be.
Halter Bikini | Paul Smith Mini Dot Top & Bottom
Strapless One Piece | Melissa Obadash Bahamas Bandeau
Strapless Bikini | Melissa Odabash Evita Bandeau
High Waisted Bikini | Kate Spade Cockatoo Calendar Girl
Tankini | Old Navy Mix & Match top & bottom
One Piece | J.Crew Seersucker Ruffle
Caroline is a Texan living in Georgia. She is a full time photographer and runs the southern style blog Back Down South. She is a huge fan of her husband, warm weather, traveling, eating good eats and drinking good drinks. She is not a fan of cargo shorts or writing in third person...