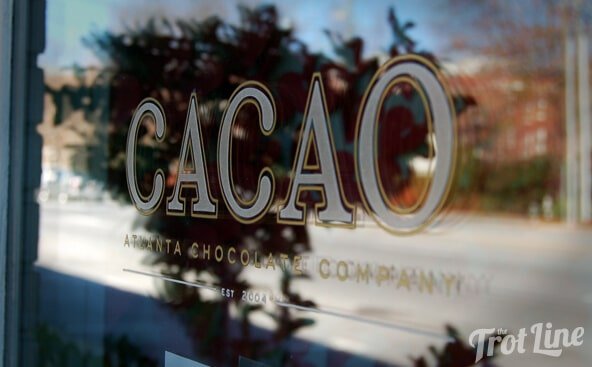 We at the Trot Line applaud and promote folks who are crafting and producing amazing products by hand every chance we get. Kristen Hard, owner of Cacao Atlanta Chocolate Co., has been doing just that since 2004. Cacao is known for creating amazing "bean-to-bar" chocolate and other scrumptious treats, making it a "must visit" in anticipation this year's Valentine's Day.
Let's be clear for one second, this is not the type of chocolate that you find in a heart box and wrapped in red cellophane. Hard's creations are crafted from South American Cocao beans which give them a darker and less sugary flavor than their mass-produced cousins. It also makes them more expensive, but you are purchasing a high-quality product that is made by hand and with passion. In addition to chocolate products, Cacao also makes an incredible macaroon and delightful marshmallows (among other things).
Menu Highlights

Azteca Aphrodisiac Sipping Chocolate // $5
This takes "Hot Chocolate" to a whole new level. Rich dark chocolate cocoa infused with six different chiles and spices, served with a fresh marshmallow. Customers may get a cup to enjoy onsite or take home their own bag to enjoy later.
Marshmallow Clouds – 6 per bag // $6
Vanilla, Cinnamon
These things melt and your mouth and disappear very quickly if you aren't careful.
Dark Chocolate Bean to Truffle Collections // 12 Piece Box $30.00, 24 piece box $60.00
These boxes of chocolates are crowd pleasers. They gives you a full spectrum of what Cacao produces. My favorite two pieces are made with Laphroaig 10-year aged Scotch and Bulleit Bourbon. Sounds like a win, win if you ask me.
Macaroons // $2 each
These little pastel colored pieces of heaven come in vanilla, chocolate, lemon, and pistachio.
If you can't make up your mind or have no idea what to get that special someone, might I suggest getting a Gift Card. I know, I know, "Gift Cards aren't creative or special," you say. I would say that it creates the opportunity to go into the stores and experience them together. Walk into any of these chapels of chocolate and you are immediately whisked away to another (French) world. Share a cup of sipping chocolate and some macaroons with your date, while sitting at an in-house bistro table and tell me that isn't a fantastic experience.
Atlanta's only operating chocolate factory currently has three locations:
Inman Park Factory Store
Phone- 404.221.9090
Hours- Closed Sun/Mon, Tuesday-Saturday 11 am- 6 pm
Cacao Atlanta- Buckhead
Phone- 404.467.4670
Hours- Closed Monday; Tue-Thurs 11 am-7pm; Friday 11 am-9 pm; Sat 9 am-9 pm; Sunday 12-6 pm
Cacao- Virginia Highlands
Phone- 404.892.8202;
Hours- Mon-Thur 11 am-9 pm; Fri 11 am-10 pm; Sat 9 am- 10 pm; Sun 11 am- 6 pm
Email- cacao@cacaoatlanta.com
Website: www.cacaoatlanta.com
About the Author Spencer
Spencer is a native "Atlantan" and the co-owner of The Trot Line. In addition to TL he writes for his own blog, Life Below the Line. He is a graduate of The University of Mississippi, loves sports, art, and any excuse to tailgate.