I grew up hearing from my Mom that we were not a "gun family," and that I would never own a gun while I was living under my parents roof.  Life as a teenager was rough, right?  Something that is found deep within the heart of a young man is this call to be wild.  Spending time outdoors, learning how to fend for myself, and making things go boom has always been something that I have been drawn to.  Fortunately, when I was teenager, a few of my friends grew up in "gun families" and I was able to learn proper safety and technique while I made my way to life as a young adult.  During this period of time, I was able to shoot what seemed like every gun ever known to man.  It was a great experience and a great way to be introduced to firearms.
Still, there was a little bit of a problem.  Even though I had thought that I had gained a ton of experience, it really wasn't all that much by the time I had left my parents house.  My friends were pretty great about lending me an extra rifle here, or a shotgun there when we went on hunts, but it was about time that I found my own firearm.
After going from shop to shop in and around Atlanta, a friend of mine who grew up around Marietta had suggested one final shop.  He had described the shop as "gun heaven."  Adventure Outdoors can be described as nothing less than just that.  The shop is lined from wall to wall in guns of all types and sizes.  In the "showroom," they have their handguns laying in glass cases, with shotguns, and an enormous variety of rifles on two different levels behind the counter.  I suspect that there are even more guns laying around in the back room as well.  The amazing part about all of this, is that they are about to expand.  Their new shop will be able to house their 8000+ guns in stock properly, include more hunting and outdoor gear, feature an indoor rifle and pistol range, and even include a cafe.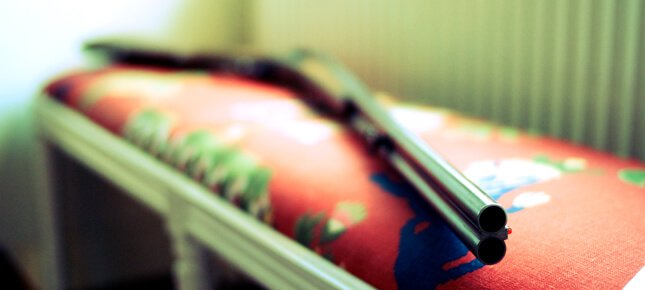 All of this sounds extremely impressive, right?  I mean, it's one, big, man cave!  Though that seems amazing (and it is,) it wasn't Adventure Outdoors' gun supply, ammunition selection, or gear to choose from that caught my business.  They won me over with competitive prices and most of all, amazing customer service.
I couldn't find an employee that wasn't carrying a pistol on them, and they were all well informed, educated, and eager to help out with any questions I had.  It was refreshing to shop somewhere that genuinely wanted my business for life, and not just for the moment.  They know that great customer service begins with building relationships.  Since my first experience with Adventure Outdoors in Marietta, Georgia, they have become the only place that I will ever buy firearms or ammunition in the state.
The shop frequently has great weekly deals and visits from gun manufacturers from around the world.  These are great events to come out to in order to educated yourself or a friend about firearms and also to find a great deal.  As it turns out, my family is now a "gun family."  My folks have had a change of heart and are educating themselves through my experience, and these local events at the shop.  Check out their site, or give them a call to learn more about specials and events.
Have you been interested in becoming a first time gun owner?  Are you looking for a gun shop in Atlanta to purchase your next firearm?  Drop a line and leave a comment!
Photo courtesy of "Rsms" via Flickr