Updated 11/15/17
Whether you are from the city, or from the backwoods, there is one thing that all Georgians love to do during the summer; Tube down the 'Hooch. The Chattahoochee River plays a major role in Northern Georgia's ecosystem and recreation. You can hear shotgun blasts and calls up and down the river during duck season, and you're likely to see a few fisherman trying to catch a trout year round.  When the summer sun starts beating down in the Peach State, you can count on a wide array of folks ready to sit back and enjoy a lazy day on the river.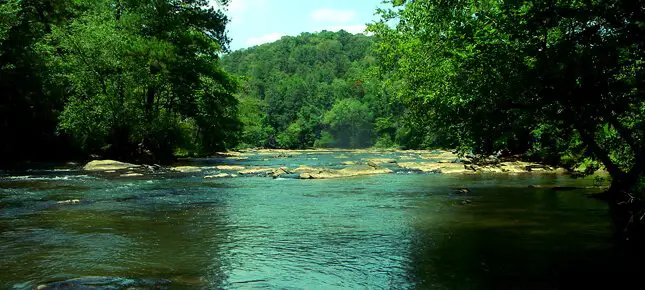 The 'Hooch is a popular river has plenty of options when it comes to making your way down cool waters on a sunny afternoon.  Each option has its pros and cons, of course.  Depending on how organized you want to make your trip, you can plan the afternoon for next to nothing, or you can pay close to $30 just to find your little slide of paradise this summer.
Essentials for Tubing the Chattahoochee River
Getting down the 'Hooch isn't as hard as you might think.  When taking on the mighty Chattahoochee, there are really only a few things that you need for a day of leisurely tubing:
Sunscreen – Don't forget the top of your feet! Tubing trips can last a couple hours, so have a buddy check to make sure you're not turning pink during your lazy float down the river.
A Beverage Container – Now, one key to relaxation is selecting the perfect beverage.  This isn't an opportunity to be the river idiot! However, at The Trot Line, we believe that enjoying a sunny day on the river is best done with your favorite beer in hand. We have seen people tie up floating coolers, Camelbaks, and the other usual suspects that you would bring to the beach.  Just remember, you will get busted for glass. Opt for a delicious craft can like Red Hare Brewing or Reformation instead.  Many local breweries can now so you can always enjoy a fresh Atlanta beer. Need more info about alcohol on the 'Hooch?  Find out more at the National Park Service's website for the Chattahoochee River.
Good Friends – Whether you're looking for some company, the camaraderie, or at least someone to help you out with the "buddy system" (Heavyweights reference,) it's good to bring a few folks along with you for a river trip.
A Plan – This day should be painless and stress free. Make a plan, stick to the basic idea, and don't be that guy who took an hour longer drifting down the river.
You might also like: Packable Kayak + Paddles
Chattahoochee Tube Rentals, Shuttles, and More
Pretty simple, right? If you feel like braving the river for yourself and your own gear, awesome.  You are cooler than the majority of us that need tubes, kayaks, life jackets, transportation, and a "good feeling about it" for this trip. Below are a few different places around North Georgia that will satisfy all of your tubing needs this summer. Some are cheap, fun, and easy to get to from Atlanta, and others are a trek and a little more expensive.
River Tubing (formally Up the River Outfitters):  Two locations; Duluth and Sugar Hill.  It's about $10 to float.
Cool River Tubing:  Located up in Helen, Georgia, this tubing adventure will run you about $5.  They tend to think that alcohol is not allowed on the 'Hooch, so drink at your own risk.
Chattahoochee Outfitters (Shoot the Hooch):  They offer a few different launch points, a large selection of watercraft (tubes, rafts, paddleboards, etc), but they are a bit more expensive.
There are plenty of other river outfitters out on the Chattahoochee that will take you tubing. The three listed above are just a few of the most popular and most well known around North Georgia. They are great selections because they have the tubing business down so that you won't be waiting for hours at the shuttle pick up point, soaking wet, and miserable.
If you have any tips for tubing down the 'Hooch or know of a great outfitter on the river, let us know!  Drop a line and leave a comment!
Photo via Flickr