We have all spent some amount of time at work or in a boring professor's lecture wondering what it would be like play plan the perfect day of hooky.  I can't tell you how often I sat back in my chair, wondering what I would do if I had just taken the day off.  A few weeks ago, I was finally able to do it.
Well, the truth is, I wasn't playing hooky.  I had a Friday off in between leaving an old job and beginning a new one.  Yeah, I know, it really doesn't sound that crazy.  The point is that while everyone else was spending their Friday working their butt off, I was outside on a beautiful spring day in Atlanta.  I had the city in my hands.  Fortunately, the timing was perfect.  My girlfriend had the day off, so I had a partner in crime!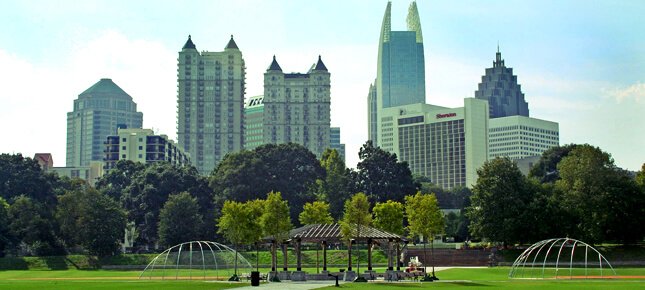 I digress…
When figuring out your day off, you really need to establish a plan of action.  Do you want to waste it sleeping all day, or do you want to squeeze it for all it's worth?  I say make this day different.  Really, that's all the planning you need to make to enjoy a fun day in Atlanta.  Stick to a few up-in-the-air ideas for a fun day, and just roll with it.  My old roommate used to describe himself as a "tumbleweed."  Stick to a few up-in-the-air ideas for your perfect day, and just roll with them!  Below is a list of the things we planned on doing for our day off:
Breakfast:  In order to start this day off well, you need to begin with a great breakfast.  Sit down.  Grab some coffee.  Enjoy.  We went to the Highland Bakery for some delicious French Toast.  I also strongly recommend The Old Hickory House in Dunwoody.  Both are extremely awesome breakfast joints, depending on what breakfast atmosphere you are looking for!
Museum:  Go inside somewhere and walk.   After a big breakfast I always want to go back to bed.  Museums are great because you are forced to walk around and look at cool stuff.  My girlfriend is from Virginia, and I haven't been since the new museum opened so we chose the new World of Coca-Cola.  While it was crowded with sugar-high kids running everywhere due to it being Georgia public school's spring break, we found peace and quiet in the history of Coke and Coke Artwork exhibits.  Both exhibits were interesting, and had cool artifacts and Coke creations.  Needless to say, we didn't spend much time with the kids in the taste testing room.
The Park: Piedmont Park is one of the best places to just lounge around and enjoy the great outdoors in the city.  If you're not people watching, laughing at the folks inline skating, or just relaxing in the grass or underneath a tree, you're missing out.  Grab lunch at Park Tavern or make your own with a quick stop by the Trader Joes across the street.  Pack a frisbee or football to toss and don't forget a few cold beers.
Brewery Tours: Atlanta loves its local beer, and their local beer loves them too.  If you have never had the pleasure, I would like to encourage you to take a tour at Sweetwater Brewery or Red Brick Brewing Company.  This is the perfect way to top off your Ferris Bueller's Day Off in Atlanta.  Both breweries are fun, but are very different.  They are also extremely popular among locals, especially during the spring and summer.  If you want to be sure that you get in for a few pints, get there early.  Get to Sweetwater by 5pm and Friday at the very latest.  You should plan on walking up to the Red Brick doors no later than 4:30pm.
Finish Strong:  Whether finishing strong includes grabbing dinner and a few pints with your friends who have been working all day, or going back home to eat pizza and watch old episodes of LOST on Netflix, it doesn't matter.  Just be selfish about the fact that it's the end of your day off.
One last very important tip:  If you are planning on actually skipping work, and enjoying every bit of your day, stay off your smart phone.  Checking into Foursquare at Sweetwater when you call in sick will most likely get back to your boss.  Cover your bases.  In fact, you might want to just leave your phone at home.  No cameras.  Nothing that can get you caught.  You will enjoy the memories more that way.  When the world can't find you, you are free.  Enjoy it.
"Life moves pretty fast. If you don't stop and look around once in a while, you could miss it." – Ferris Bueller
What would you do on your day off in Atlanta?  Have you taken one before?  Drop a line and leave a comment!
Image via Flickr