Over the past year, Costco has been making noise in the alcohol market.  In Georgia, they are legally allowed to sell liquor, but it is shop separated from the rest of the building.  I can only assume that they have done this to side step the liquor laws in Georgia.  It was a good call!  They have some pretty awesome prices for the spirits, especially if you are looking for a steal when it comes to handles.  When I buy whiskey or vodka, I can usually find the best deal here.
You Might Also Like: 5 Books for Every Whiskey Lover
Keep in mind, your bourbon selection is limited.
Costco Branded Liquor – It's Does Exist
While Costco has been in the sales game for awhile with alcohol, they have most recently started using their Kirkland Signature label for branding their own alcohol. Whether it is beer, wine, or vodka, you are usually getting another brand's leftovers or they struck a deal with a distillery for a certain portion of their product at a discount rate.



My curiosity had been sparked by their step into the bourbon market.  America's liquor (it has its own law requirements) has become more and more popular over the past few years in the small batch arena, following the trend of craft breweries it would seem.
Kirkland Signature Premium Small Batch Bourbon
I have been waiting to try this bourbon for awhile, especially after reading all of the mixed reviews.  Now, there is mixing bourbon, and their is sipping bourbon.  When it comes my taste, I prefer sipping it neat.  The other intriguing part about all of these reviews was that you could land a liter of this stuff for about $20.  Sounds like a steal, right?  Needless to say, when we had a small reunion this last weekend with four of my brothers in town at the same time, I was pretty pumped to break into this bottle with the men of my family.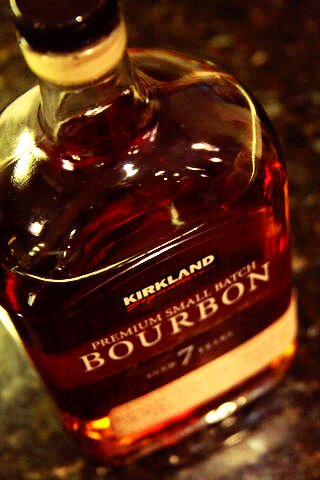 My pops and I are really the whiskey drinkers of the family.  He has a heart for Scotch and mine leans towards bourbon.  We were both able to enjoy the first two pours, neat of course, and sat to talk about it.
Before I judge a bourbon, I really like to enjoy the pour from start to finish.  Sometimes your mouth just needs to adjust to the alcohol content and flavors involved to give the liquor a proper final score.
Whiskey Notes and Observations
As we sipped, I looked over the Kirkland Signature bourbon stats on the bottle.  Their marketers hit the nail on the head with the bottle design.  It resembled the rest of the mid to high end small batch distillery bottles that I have seen.
The label reads, "Kirkland Signature Premium Small Batch Bourbon."  It says that the bourbon is aged 7 years and comes in at 103 proof (51.5% abv).  Generally, that is a little higher than my liking for sipping bourbon.
Who Really Makes the Costco Bourbon?
Rumors behind the Costco bourbon point to Jim Beam as the manufacturer of this concoction.  I usually don't go for JB when it comes to sipping whiskey.  Despite the bad reviews on this product, the higher alcohol content didn't bother me.  I had read reviews about the strong oak taste, but it wasn't overwhelming at all.  Perhaps it is the fact that my nostrils have been scorched from drinking 35 year old Scotch a month ago, but this bourbon was fairly smooth.



My pops agreed.  It really wasn't that bad like a few of the popular bourbon blogs had said before.
The Verdict on the Kirkland Signature Bourbon
The final verdict was that it wasn't our favorite, or worthy of winning any awards, but it was a pretty good deal for a sipping bourbon.  I would feel completely fine with serving this on a cigar and football night with my buddies, or packing it up for a hunting trip weekend.
What does it compare to, in my opinion?
Costco's bourbon primarily reminds me of Jim Beam Kentucky Straight Bourbon Whiskey (flagship, white label) or Knob Creek. Beam isn't my favorite, but it'll do. Sort of like this bourbon from Costco.
What would I rather have for similar prices?
Have you had the controversial Costco bourbon?  What do you think of it?  Drop a line with us and leave a comment!