This past Wednesday, I was scanning over The Trot Line Twitter feed, and I noticed an interesting post by Terrapin Beer Company.  They had announced that they would be tapping one of the first casks of their side project beer, "Indiana Krunkles" at The Fred.  After the initial excitement of a new Terrapin beer getting tapped (and me knowing where,) I was brought back to reality after remembering that I had already made plans that night.
Like a responsible adult, I decided to head on over to the restaurant which I had previously committed so that I could meet up with a few of my friends.  It must have been divine intervention, because my iPhone GPS took me the complete opposite direction of where we were supposed to meet.  I had actually been driving closer to The Fred.  Easily an hour late, I decided that spending more money on gas would be pointless, especially when faced with the reality that the first drops Indiana Krunkles could be mine!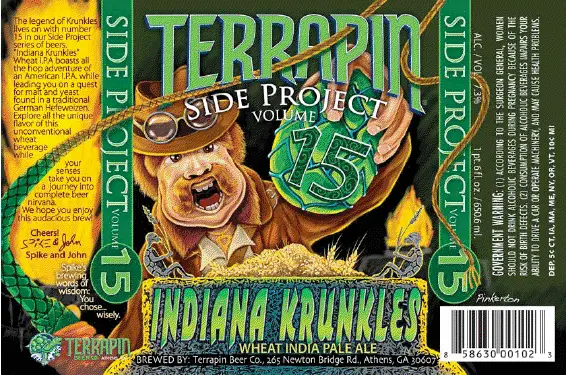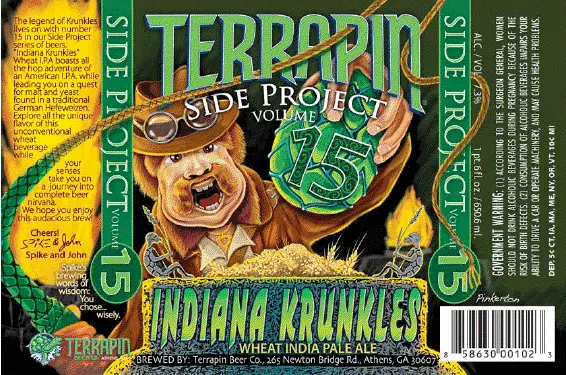 If you are a Terrapin fan, you might remember the name "Krunkles."  They had released a beautiful Black I.P.A. last year called, "Capt. Krunkles."  The new Krunkles is a Wheat I.P.A. and it is delicious.  There, I said it.  I am guilty of compartmentalizing my beers into seasons.  Lighter beers are for spring and summer, and the darker, heavy brews come out during the cold months of the fall and winter. The Indiana Krunkles is perfect for the hot summer months in Georgia.  It is refreshing like a typical German wheat beer on a sunny day, and it doesn't carry a heavy feeling to it.  The alcohol content (ABV: 7.3% ) is a bit higher than most Hefeweizens, but hey, it's the summer.  Leave your worries somewhere else.  Don't bring them along with you when you're sticking your toes in the sand or enjoying a day by the lake.  The finish was a had a hint of citrus, but it never crossed that line of tasting fruity.  Terrapin maintained the integrity of an I.P.A. in this brew, and I really appreciated it.
Indiana Krunkles is a great addition to any cooler in the South this steamy summer season.  Go grab ya some, and remember to drink local.
Have you had a taste of Terrapin's Project #15, Indiana Krunkles yet?  Drop a line and leave a comment!