Sometimes the spots that are closest to us are the ones we take for granted.  Many people who live right next to big cities live so close that we never actually take time to visit cool places that may be considered typical tourist attractions.   Whether you are an Atlanta local or visiting from out of town, Stone Mountain Park is an awesome place to spend an inexpensive afternoon.
When I headed into Stone Mountain Park this past weekend, I thought that the only thing to do was climb up the side of the mountain, look at a gorgeous view of the city, and eat lunch before packing everything up and calling it a day.   I was pleasantly proven wrong.  The climb up the side of the mountain was exactly that, a climb.   I'm not any kind of hiking enthusiast, and this hike was manageable.   It's a little over one mile to the summit, but the tail end is extremely steep.  You're heart rate will definitely increase, but you won't ever be uncomfortable.   At the summit, you can find a gorgeous view of Downtown Atlanta, Buckhead, and even Dunwoody.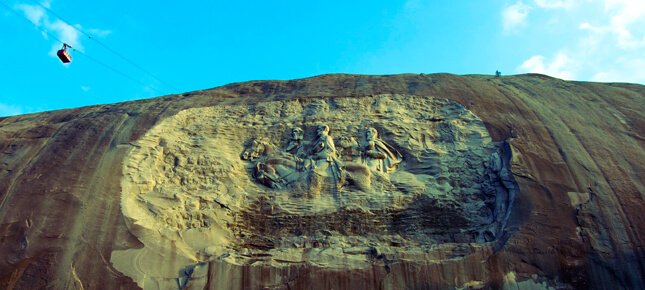 Even though the hike gives you a great workout, don't leave right after, go explore!   Stone Mountain has much more to do than just hiking to the top.  There are tons of walking trails surrounding the mountain to help you enjoy the beautiful scenery.   In addition, you can check out the beautiful Grist Mill, tucked away in the woods, or walk back to the outdoor quarry exhibit.   The Songbird Habitat was where the archery and cycling events were held during the 1996 Olympics! Lastly, if you're just looking for somewhere new to fish or golf, you can fish from Stone Mountain Lake or play on your choice of two golf courses.
So next time you have nothing to do on a Saturday, but want to go on an adventurous getaway, head over to Stone Mountain.  For just $10 per vehicle you can climb to the summit, picnic by the Grist Mill, play a game of golf, or enjoy some quiet fishing time. Whatever you choose, you'll be sure to have a great time away from busy city life, and it's right next door!
Have you missed out on the Stone Mountain Park fun?  Are you a Stone Mountain junkie? Drop a line and leave a comment!
Photo via BenCarr