Your ability to make or enjoy a cocktail should go beyond the trite gin/vodka and soda/tonic water with a lime.  While refreshing, it is boring and should only be used when your cupboards are bare and you ONLY have the two ingredients.  Fret not, I am going expand your horizons with three different cocktails that are sophisticated enough to order out during a date night, but easy enough to mix up after a long day at the office.  Salut!
The Old-Fashioned
The first cocktail on the list is the Old-Fashioned- named so because it is often credited as the first mix of ingredients to be called a "cocktail."  Hailing from Kentucky it is mentioned all the way back in Jerry Thomas's 1863 classic bartender tome How to Mix Drinks. The Old-Fashioned is prepared by muddling a sugar cube, orange slice, maraschino cherry, and bitters with a splash of soda water and then adding ice and bourbon.  It is a strong drink, but it has a good blend of sweetness and bitterness.  Order one of these while out on a date, poolside in Palm Springs, or on a late-night heater at the craps table.  This drink goes well anytime of the day or season.
Ingredients:
1 sugar cube
3 dashes of Angostura bitters
2 orange slices
2 Maraschino cherries
Splash of soda water
2 oz bourbon
Method:
In an old-fashioned glass, place the sugar cube and add the bitters.  Add one cherry and one orange slice, and a splash of water and muddle.  Remove the fruit husks, add the bourbon and ice and stir well.  Garnish with remaining cherry and orange slice.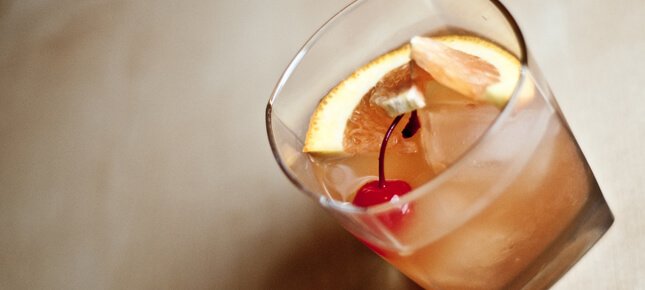 The Vesper
He looked carefully at the barman.
"A dry martini," he said. "One. In a deep champagne goblet."
"Oui, monsieur."
"Just a moment. Three measures of Gordon's, one of vodka, half a measure of Kina Lillet. Shake it very well until it's ice-cold, then add a large thin slice of lemon peel. Got it?"
"Certainly, monsieur." The barman seemed pleased with the idea.
"Gosh, that's certainly a drink," said Leiter.
-Ian Flemming, Casino Royale (1953)
Certainly a drink, indeed.  And with these words penned by Ian Fleming, a legend was born.  The cocktail would later be named a Vesper after the novel's heroine, Vesper Lynd and it is actually a very solid drink.  Kina Lillet is no longer available so you will have to use Lillet Blanc (which is NOT vermouth).  The drink adds a little sophistication to the martini (who knew that was even possible) and if you order it by the ingredients, it is a conversation starter.  This beverage is great for pre dinner drinks.  As Bond says, "I never have more than one drink before dinner. But I do like that one to be large and very strong and very cold and very well-made. I hate small portions of anything…"
Ingredients:
3 measures of Gordon's Gin
1 measure of Vodka
½ measure of Lillet Blanc
1 lemon peel, for garnish
Method:
Combine the gin, vodka, and Lillet in a mixing glass with ice and shake until it is very cold.  Strain into a chilled cocktail glass and garnish with the lemon.

The Manhattan
Expanding on the martini vibe, there is rarely a bad time to order a Manhattan.  In fact, this is my drink of choice when attending a house party where ingredients are hard to come by.  Oftentimes credited as being created by Winston Churchill's mother (it was fix mixed up at a party hosted by her), the Manhattan only needs a few common ingredients: bourbon or rye, bitters and sweet vermouth.  I usually use Maker's Mark Bourbon for the Manhattan, but sometimes will use whatever rye I have on hand to change things up a bit (rye also makes a less sweet Manhattan).  This cocktail is great for dates, business meetings, cocktail parties, and pretty much any event after 6 pm.
Ingredients:
2 oz Bourbon or Rye
1 oz Sweet Vermouth
2 dashes of Angostura Bitters
1 Marashino cherry, for Garnish
Method:
Stir the whiskey, vermouth and bitters in a mixing glass with ice.  Strain into a cocktail glass and garnish with a cherry.
Have you ever had any of these classic cocktails?  Drop a line and let us know what you think!
Photo via Flickr