We shuffled our way into the car, half asleep, eyes barely open, coffee deprived, but anxious for what the Memorial Day weekend had in store for us.  Originally when we had plotted our course, we had made plans to stop by Greensboro, North Carolina on our way to Smith Mountain Lake in Virginia.  Those plans were made using Google Maps the night before, which the TomTom GPS clearly did not agree with, because we were about 30 miles West of the city by the time we realized that we would be skipping by Greensboro.
You may be wondering why on earth I had my heart so set on driving through Greensboro on our way to the lake.  It's simple.  A few months ago I was given a six pack from a local brewery in Greensboro and enjoyed it thoroughly.  My love for ales runs deep, and this one had left a good impression.  I mean, it was good enough to try and route a road trip through the town just to pick up a case.
As we rolled up to the lake house, I felt a little empty handed.  The road trip wasn't complete.  Sure, I was introduced to Sheetz (puts QuickTrip to shame) on the way up, and we were now in the driveway of an amazing lake house, but I had missed a major part of the mission up i85.  Plus, I was showing up as a guest without anything to offer.  Smooth.
People began to arrive at the lake house shortly after we had pulled in to the driveway.  One person in particular had brought a special surprise.  This one person made my night.
Out of a duffel bag, Rob pulled out a brown jug.  Now, if you know anything about Smith Mountain Lake, then you would automatically think that he had just pulled out a jug of moonshine, which the county by the lake was known for all around the South.  Rob turned the jug around on the counter, and there it was…
A growler.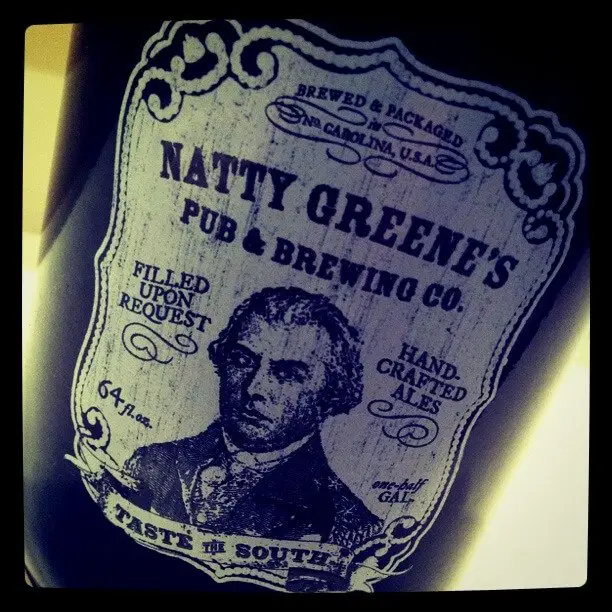 Not only was this a growler, but it was a growler of the one beer I had set my heart on back in Atlanta when we had started this whole trip.  It was Natty Greene's Buckshot Amber Ale, and it looked glorious.
Growlers have been becoming very popular these days in the craft beer world.  One of the reasons why they are popular in Georgia is because they offer a way around our Sunday alcohol sales law.  They offer the patron of a bar a way to take home draft beer with little to no loss of quality from the tap.
Natty Greene's is a pub and brewery that made its roots in Greensboro, North Carolina and recently opened an additional pub in Raleigh.  Two UNC-Greensboro undergrads started the brewing company (doesn't it always seem to start with two guys in college?) in the mid 90s.  Since then, Chris Lester and Kayne Fisher are offering five year round brews, with a few seasonals and rare releases.  Sadly, they don't serve Natty Greene's in Georgia.
So why was I excited about the Buckshot Amber Ale?  Well, I'm sort of an Ale guy.  I also like my beer super hoppy.  Matter of fact, it wasn't a beer I would typically grab off the shelf or order at the pub.  However, I loved it.  Coming in at 4.8% ABV, this Amber Ale is extremely smooth with just a few slight hints of caramel and toffee.  It's a very balanced flavor that many self proclaimed "beer drinkers" will enjoy.  It's a full flavor, and never overwhelming.  In other words, you won't be "one and done" with this beer.  You can enjoy a pint or two after your first pour.
After a great weekend at the lake, I was pretty happy that Natty Greene could join me after all.  If you're looking for a great craft beer from the South, stop by Greensboro or Raleigh to grab yourself a pint, a case, or even a growler of Buckshot Amber Ale.
Are you a Natty Greene's fan?  Drop a line and leave a comment.  Tell us what you think!  As always, keep it local.