Anyone who grows up in Northern Virginia, like I did, will argue that it should be a separate state from Virginia. Most of us claim that we are Northerners when we venture down to the South, regardless of where the Mason-Dixon line lies. Sweet tea and Chick-fil-a didn't even reach our area until just a few years ago. Ever since I have moved south, I have started embracing the hospitable culture, especially the food. The South City Kitchen Midtown has once and for all convinced me to embrace the fact that I am a southern girl, and be proud of it.
One of the cool things about South City Kitchen Midtown is that they put a contemporary twist on traditional southern meals, while maintaining a white tablecloth restaurant feel.  They have full wine service, as well as some great signature cocktails and a good selection of beer (including some local choices.)  Best of all they start you off with cornbread and biscuits.  The cornbread melts in your mouth and the biscuits are better than even the Pillsbury dough boy could have imagined. Everyone loves when a restaurant puts bread on the table, and they give you two selections.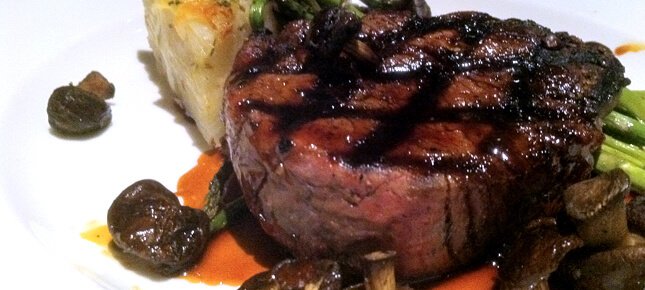 South City Kitchen has a variety of great food selections. Whether you're a seafood fan, a poultry person, or a steak connoisseur, you'll be able to find a great meal here. My date had the shrimp and grits since it isn't something he typically gets to order, and I followed his lead by ordering the petit filet. You can't catch me eating red meat too often, but I didn't regret indulging. My filet was crisp on the outside, but had a smooth, melt-in-your-mouth inside. It was cooked exactly to my temperature specifications.
The service at South City Kitchen was also exceptional. Sometimes I feel like if I ask the server a question about a food that I don't know how to pronounce or am not exactly sure what it means they will scoff at me. Our server invited us to ask questions, and encouraged us to take our time and enjoy ourselves. The manager stopped by to see if we enjoyed ourselves, and clear our table.
If you're looking for somewhere with a sophisticated atmosphere and a southern home style menu, South City Kitchen in Midtown Atlanta is the perfect place for you. You will find traditional southern menu items and sides, a wide selection of drinks, and receive exceptional service. No matter who you go with, where you are from, or for what occasion, you will leave there feeling proud to call yourself a southerner!
Drop a line and let us know what you think by leaving a comment!