The young folks in their teens, 20s and early 30s have been labeled the laziest generation to have ever lived.  People seem to think that this my generation feels apathetic and entitled.  I can't deny that though I never grew up rich, I was extremely privileged.  While my friends all had new cars, I was still privileged enough to have four wheels and an engine, which is all a sixteen year old boy needs to feel like he is invincible.
When developing and starting our business, Southern culture was always on our minds.
After I graduated from college, the economy fell through.  It seemed as if I was one of the lucky guys who actually ended up with a "real" job post graduation.  Yeah, I can see how some people would think that my generation is spoiled since most of us expected to have businesses begging for us to let them hire us the day after receiving a diploma.  Yet, throughout all of the horrible things that have been happening around the world and to our economy, I still find myself inspired by some very young people.  One of these young people just happens to have graduated a few days ago from high school.

I found James Adams (patriotic sounding name, right?) through Twitter of all places representing his company, Southern Ties.  After visiting his website, and creeping through his social networks, I decided to contact him to get the scoop and what ST was all about.  Needless to say, I was pretty surprised to find out that the mastermind behind Southern Ties was an 18 year old.  We exchanged a few messages, and I decided to finally ask him if he would be cool with answering a few questions for The Trot Line.  Of course, we had to wait till after he finished his exams before we could talk about his masterpiece, handmade bow ties.  James was kind enough to answer a few of my questions even though he had some celebrating to do:
TTL:  So James, where did you get the idea to start your own custom tie business?
JA:  It all started as a year-long senior research project for The Commonwealth Governor's School. I could choose to study anything I wanted to. So, I decided I wanted to create a business plan and actually create a product. I ended up creating a website, a Facebook page, and a Twitter account. People started following me and requesting actual products. When I started the project I was just planning on making a few ties, but it sort of spiraled into something more. When I saw the business really start to grow was when my friend, Samuel Thomas, got involved. During my project, we just kept talking about what we could do with Southern Ties after my project was complete. My project had to be all my own work, so Sam was on the side until the project was complete.
I personally love Charleston, SC as nearly every other Southerner does.
TTL:  What inspired your business motto and name?  It sounds right up our alley!
JA:  We had a few different ideas for the name and motto. Southern Ties just fit the best. It works two ways: it tells the customer what and where we sell but it also describes the Southern tradition and roots from which the company comes from. The motto is simple. Southern. Style. Tradition. Three words. Three things that Southern Ties bases itself on. We wanted the customer to be able to immediately recognize what the brand was all about.
TTL:  So you're just graduating high school, what's next for Southern Ties?  Yourself?
JA:  Southern Ties will be following Sam and I to college. I will be attending Sewanee: The University of the South in Tennessee and Sam will be attending Hampden-Sydney College in Virginia. If you know anything about either one of these institutions, you already know how preppy they both are. They are two of the best places to let Southern Ties prosper. As for the brand, we hope that in the fall we will have ties in at least twenty different retailers throughout the South. We are also currently researching and developing some other products to add to our product line.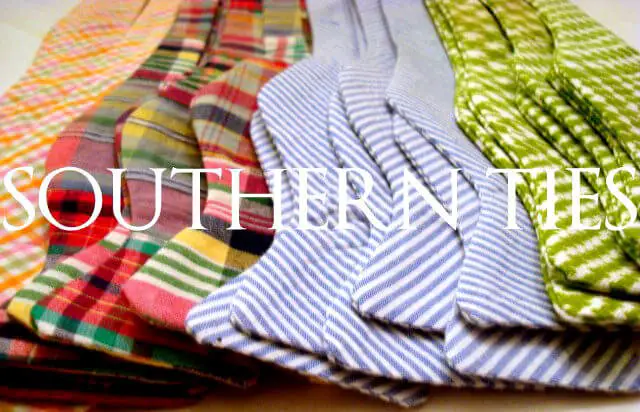 TTL:  Obviously the South played a major role in your life.  How did Southern culture shape your business model?
JA:  When developing and starting our business, Southern culture was always on our minds. We really payed attention to what Southerners look for in products. Quality. Craftsmanship. Customer service. All of these things are important to us as well as our customers.
TTL:  Where can we make orders?  Are there shops that are currently carrying your ties?
JA:  Orders can be made online by emailing [email protected]. We will send the customer an order form and they email it back.
TTL:  Can you give us a few tie suggestions for different scenarios?  An outdoor summer wedding?  A night out?  Work?
JA:  Our ties are perfect for a spring or summer wedding, a party, a dinner out, or a fraternity formal. I know of customers that have worn our ties to proms, formals, and graduation ceremonies.
TTL:  What are some of your favorite spots to visit in the South?  What should we check out?
JA:  I personally love Charleston, SC as nearly every other Southerner does. On a smaller scale, Ashville, NC is a great place to visit.
Check Southern Ties out on Facebook to find out about the newest styles and developments with this young, and promising business.
Drop a line and let us know what you think about this young entrepreneur from the South by leaving a comment!