Despite having lived in Atlanta for a little over two years, there's one thing that I've constantly felt I've been missing; a real "taste" of Atlanta. The majority of my dining adventures consist of cooking at home, visiting the same favorite few places, some chains (shame on me) and from time to time a ritzy "splurge" in honor of a special event or celebration. One of those special events took place this past week and I was able to sink my teeth into something new, delicious, and all around SOUTHERN!
what is more AMERICAN and filled with SOUTHERN style than deviled eggs?
BrickTop's in Buckhead is an all-American, all-quality, all the time type of place that has something for every palate. As I'm sure many of you have experienced, it can be a rare event to visit a restaurant and receive the exact type of service they promise within their website's "look at how great we are" description. Lucky for me, this was one of those rare events. As promised, my night out was filled with "a winning combination of great food, uncompromising quality, and a dining experience to suit all occasions". Talk about spot-on advertising!
BrickTop's has a wide variety of menu options ranging from fresh seafood, grilled artichokes, meatloaf, flatbreads, tacos and… drum roll please… Deviled Eggs. YES, you read that right. Foodie friends I ask you, what is more AMERICAN and filled with SOUTHERN style than deviled eggs? When I saw that they were served both as a side and as an appetizer (accompanied by sugar bacon, of course) any doubt that I may not enjoy my meal was completely eliminated. Of course I ordered some, of course they were delicious and OF COURSE I documented the splendor: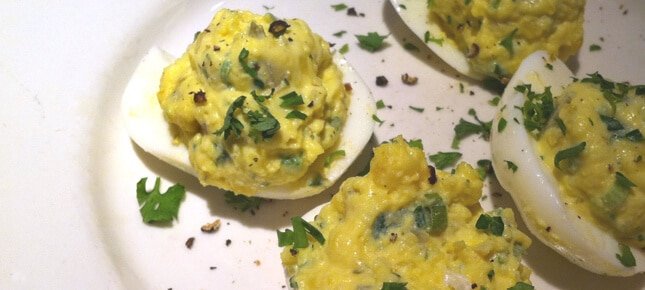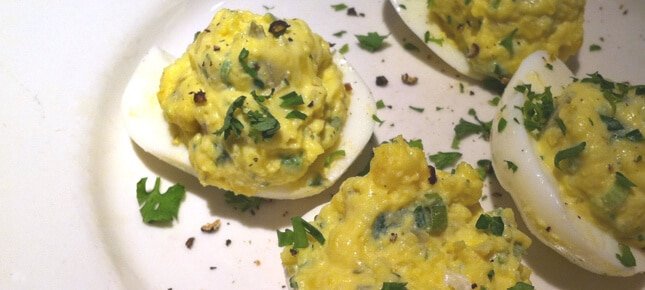 Even though the deviled eggs were by far the highlight of my meal, every other bite was just as delicious. From the Parmesan Crusted Chicken with caper lemon butter sauce and a light salad to the Three Cheese Macaroni and the TO DIE FOR Chocolate Chip (a giant chocolate chip cookie baked in it's own cast iron skilled topped with a mound of Bluebell Vanilla ice cream and drizzled with caramel… can you say heaven?) for dessert, it was a night well tasted. Not to mention the fact that while I enjoyed the meal in front of me, I also had to keep myself from reaching across the table to snag a piece of my husband's Margherita Flatbread, which he raved over as it quickly disappeared.  The servers were pleasant and not overbearing, the prices were reasonable and the atmosphere was relaxed yet professional. I highly recommend it to anyone looking for delicious American food accompanied by Southern charm and style to beat.
BrickTop's Buckhead is located at 3280 Peachtree Road NE, Atlanta GA
Open: Sunday – Thursday from 11am-10pm, Friday – Saturday from 11am – 11pm and features Saturday and Sunday brunch from 11am – 3pm.
Other locations in Charlotte, Naples and Nashville.
Visit them online and 'like' them on Facebook!