One of God's greatest gifts to mankind was the sandwich.  I believe that He had me in mind when He blessed someone with the idea.  When I stumble onto a sandwich place that I have never been to before, I tend to be a little over zealous about making my way over to try it.
A few months ago, I was on the hunt for a sandwich place/bakery/deli (anything that puts meat and cheese between two slices of bread.)  I ended up finding a bakery tucked away in a Sandy Springs shopping center named Breadwinner Cafe and Bakery.  Let's just say that their website does not do them justice, but their online menu enticed me just enough to take that leap of faith across the threshold.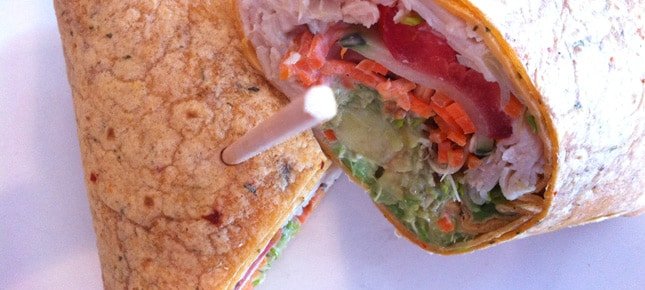 When you walk inside, the first thing you see is an amazing assortment of handmade sandwiches, wraps, soups, salads of all sorts, and gigantic desserts.  It was love at first sight.
There are a few different options for those who are dipping in for lunch.  You can grab a half sandwich, side soup, and a side salad (the lunch special,) or you can just go for the whole sandwich and add on whatever you would like to the side.  Of course, that can get a little pricey, so sticking to the lunch special is a great deal.  If you're a meataterian like I am, you could be worried that the half sandwich might not be enough.  Trust me, it is more than enough.  I am fairly particular when it comes to putting together a heavy sandwich.  The more protein stacked on a piece of bread, the better.  The Breadwinner doesn't skimp on the good stuff.  Their roast beef sandwich on a roll is enormous.  Even the wraps are big.
The salads range from your garden vegetable "traditional" salads to a few Southern favorites like potato salad, fruit salad, and broccoli salad.  You can also find cole slaw and orzo salad.  If you're not feeling leafy, there are plenty of options.
Go $10 lunch special with a half sandwich, cup of soup, and a salad.  You will be more than full when you go back to work.
Admittedly, I have not had all of the sandwiches (yet,) and I am okay with the idea that I need to go back for more.
Here are a few more details on this fine sandwich heaven:
220 Sandy Springs Cir NE
Sandy Springs, GA 30328
www.breadwinnercafe.com
404.843.0224