When I was first invited to try out R. Thomas Deluxe Grill, through a few friends who are my go-to sources on the best local cuisine, I was skeptical. I've always (shamefully) been the type to turn my nose up at any restaurant that seems "different" or "out of the norm" and the selling point of a truly ORGANIC experience didn't exactly have me jumping to place my order. My experience with "healthy" organic-only cooking was filled with unhappy taste buds and an empty tummy so it's not a surprise that my mindset was a little something like, "yeah, organic food might be 'better' for you but who wants to eat cardboard?" My own naivety was comical. THANKFULLY I sucked it up and joined my friends for what I was sure would be an out-of-my-comfort-zone meal at R Thomas in Atlanta.
Holy moly did I get a SLAP in the face! The first thing I ordered (by recommendation of course) was R.'s White Sangria. In the words of Rachel Ray, YUM-O! This stuff was like Christmas in a glass. I guess it didn't occur to me that an all-organic restaurant would use nothing but fresh ingredients (duh) in all of their recipes INCLUDING their drinks. Freshly squeezed juices infused with white wine and nutmeg and garnished with a slice of DELICIOUS Asian pear. One sip and I was head over heels in love.
R.'s was officially earning brownie points after the delicious drink but I was still hesitant about some of the menu items and I didn't want to empty out my wallet for something that I might not enjoy. Luckily, R. Thomas is very reasonably priced and I was not at all disappointed with my order! Although we were there for dinner, the Breakfast Quesadilla had my mouth watering: sundried tomato tortilla filled with eggs, cream cheese, fresh basil, white cheddar, bacon, pepper and onions. All organic. All fresh. All delicious. I was officially a believer in the possibility of delicious, good-for-you organic food!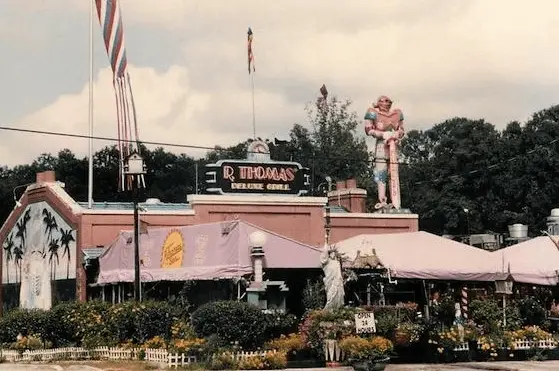 Apart from the meal, R. Thomas served up one of the coolest dining experiences I have ever had. The atmosphere is exotic and welcoming, complete with a garden of fresh herbs and produce and chatter from tropical birds.
Hold the phone… tropical birds?
Yes. Real, live, wing flapping and happily chatting tropical birds accompany you to dinner. Who knew you could experience something like that in the heart of Atlanta?
Here's the bottom line people: even if you are the biggest skeptic in the world (aka just like me) and would much rather opt for a fatty, generic plate of whatchamacallit from some SUPER chain restaurant, you need to give R. Thomas a try. You won't be disappointed.
Where?
1812 Peachtree Street, NW,
Atlanta, Georgia 30309