Though most of the contributors for The Trot Line live in Atlanta, half of us spend quite a bit of time in Virginia as well.  Why we haven't written about anything in Virginia up until this point, I don't know.  It's a beautiful state with it's fair share of country folk and sweet tea charm.  Virginia also has a little bit of outlaw heritage to it as well, especially in the southern region.  In this area of Virginia, you can find a rich history of a Southern favorite: moonshine.
Back in May, I was planning a trip to Smith Mountain Lake, VA (moonshine capital of the world,) when I stumbled onto a new follower of our *Twitter feed.    It caught my attention for a few reasons, but mostly because next to smoked meat, I love sweets.  The new follower was Red Truck Bakery, located in Old Town Warrenton, VA.  Due to scheduling conflicts, we weren't able to make it up to Warrenton (it's sort of 3 hours away from SML, VA) until this past weekend.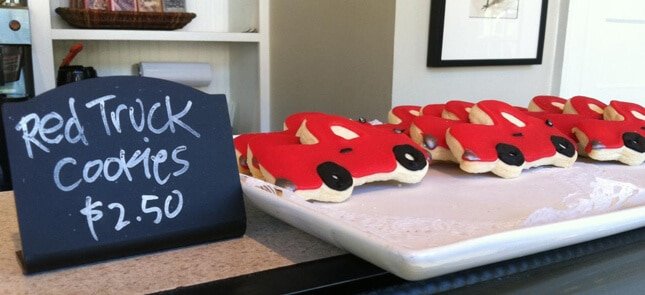 Red Truck Bakery is set inside a renovated filling station on the square, where you will usually find an old, red Ford F100 sitting out front.  The inside isn't nearly as rustic as the truck, but it gives a sense of stepping into an old country kitchen.  It sort of makes you feel like home.  The smell of fresh baked bread and goodies hit you first, and it's enough to make you stay and plan out your next visit.
RTB's menu is impressive, and very **local.  It's apple season in the South, and they're taking full advantage of it with their homemade apple pies, apple muffins, side dishes, and more.  This was all very great and everything, but to be honest, I had one thing on my mind.  It was what originally caught my eye when checking the bakery out online…  their signature dessert, the Double Chocolate Moonshine Cake.  It's what caught the attention of other publications as well, including Garden & Gun.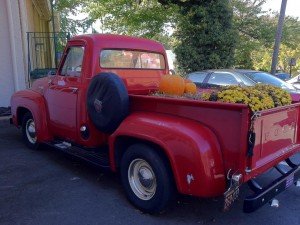 The Double Chocolate Moonshine Cake looks like a regular, chocolate pound cake at first.  We ask for a few slices (the whole cake is $22, and very affordable) to go.  While we were checking out, I stuck my nose close to our fresh slices of "Hooch cake."  They weren't kidding about the ingredients…
It wasn't long after we walked out before I took my first bite (inhaling) of the cake.  The Hooch cake, made with legal moonshine, finishes with a sweet and fresh taste.  I can only assume that the fresh feeling comes from the moonshine, which is never overwhelming.  The moonshine seems to balance the sweetness of the chocolate very well.  After finishing my cake (in around 3 seconds), I never had that feeling that desserts usually leave me with… You know… The feeling that you just want to lay down and sleep.  Desserts tend to kill my energy because of their sweetness, or rich flavor.  The moonshine cake is actually refreshing, and surprisingly light.
The general feel from the group was that the Red Truck Bakery is a most visit for those traveling through the South.  If you're not making a road trip through Virginia anytime soon, you can also order a few of the menu items online or over the phone and have them shipped to your house.  However, you won't want to miss out on the rest of the daily menu items at Red Truck Bakery.
Side notes
: *Twitter is best used when not stalking celebrities.  I strongly suggest you invest some time in figuring it out for yourself, for your blog, and for your business.
** Local ingredients generally indicate that a chef is very concerned with the quality of his/her food, the local farmers, and the local economy.  We prefer restaurants, bakeries, etc that choose to support local produce by serving it in their establishment(s).