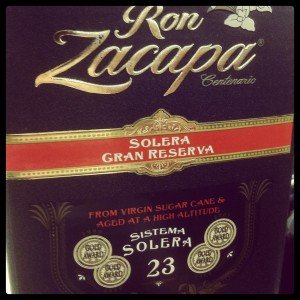 When most people think of rum they think of beaches, little umbrellas and possibly Jack Sparrow. Rum has been pigeonholed as a girly drink for years, but has recently been making a comeback.  I have noticed premium rum drinks showing up on drink menus and even some of my most hardcore whiskey-drinking friends have started stocking it at home.
As a person who loves bourbon and scotch, I always thought rum was liquor that needed to be mixed with something. I wrote it off as a spirit that couldn't stand on its own. That was all until my cousin handed me a glass of 23-year-old Ron Zacapa. He said if I liked scotch I would like this rum. I was skeptical, but boy was he was right. I was shocked at how good it was.
Zacapa is an Irish whisky styled rum made in Guatemala and is widely considered to be one of the finest rum's on the market. However, it is quality that you pay for at around $50 a bottle (worth it). Zacapa is NOT a molasses-based rum, and is instead made from the "pure sugar cane honey," which is the juices of freshly pressed sugar cane that are then boiled and allowed to thicken.  This "honey" is distilled into a fantastic rum which is aged in a variety of wood casks high in the Guatemalan mountains in the region of Quetzaltenango (2300m above sea level.)
Zacapa is a complex dark rum that combines many of the flavors I enjoy in whiskey, but in a smoother and lighter experience. Because it is made from sugar cane, Zacapa is sweet, but not overly so. Your tongue is instantly enveloped in flavors of molasses, cocoa, some butterscotch, and honey, with a slight woodiness to the finish.
There is very little burn, and it is incredibly smooth from start to finish. I was shocked how smooth it was neat, but with a splash of water or a few ice cubes (recommended) it opens up the nose and flavors even more. It is a different experience for the drinker, but it is an overwhelmingly positive one. Zacapa is a rum that would convert even the most stubborn whiskey drinker.
I would highly recommend Ron Zacapa 23 to anyone looking for a new liquor cabinet staple that gives you different, yet familiar experience. Go treat yourself.
Unlike Bourbon or Scotch, Rum recipes are not regulated, so each producer has their own distinct flavors and methods. Ron Zacapa is my favorite so far, but I will continue to explore the options out there.
To try a few, I would also recommend trying these premium-aged rums:
Pyrat XO Reserve ($50)
Mount Gay Extra Old ($33)
El Dorado ($30)