Christmas is upon us and here in my sweet southern city of Knoxville, the goose is definitely getting fat. First, I guess I should introduce myself. I'm Kate Spears and you can usually find me over at my personal blog, Southern Belle Simple. I was beyond honored when Kevin extended the invitation for me to contribute here at The Trot Line. For my first post, we decided I should share a little taste of the festivities going on in my neck of the woods in East Tennessee.
I've lived in Knoxville for going on 12 years now, but almost each day I spend here, I find some new interesting sight or adventure I didn't know about before. Most folks might think that life here begins and ends at Neyland Stadium, but we've got so much more than that. Right after Thanksgiving each year, our downtown is decorated to the hilt with lights and other festive accouterments.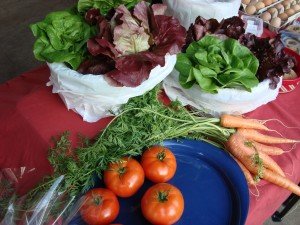 Market Square is a favorite spot to grab a tasty bite from one of our local restaurants, browse the eclectic shops, and do some great people watching. During this time of year, Market Square is also the site of an outdoor ice skating rink and an open air holiday themed market where all sorts of vendors set up to sell their wares.
The Market Square Holiday Market, which takes place three Saturdays in December, is a branch of the regular Market Square Farmer's Market, which is open every Wednesday and Saturday from May to November. I visited the market the past two Saturdays and picked up some fantastic last-minute gifts.
There were even a few farm vendors with the last of the year's harvest. Items like home-canned jams and relishes are always a much-loved gift and I bought some homemade chili powders and hot sauce for the spicy-food lovers on my list.
I'm always amazed by the talent on display at the Holiday Market. From hand-stretched drums, woven baskets and wood carvings to uniquely designed bird houses, floral designs and jewelry, this area has no shortage of skilled craftsmen and artisans. I love supporting local vendors and it provides a way to give a one-of-a-kind gift as well.
In addition to the Holiday and Farmer's Market, Knoxville has an annual event called First Night that also takes place on Market Square. This family-friendly event allows you to ring in the New Year while enjoying lots of great food and entertainment. Thanks to our Chamber of Commerce and the Knoxville Central Business Improvement District, downtown Knoxville is really a thriving place. If you haven't visited us, we'd love to have you!
And thanks again to Kevin and everyone here at The Trot Line for letting me be a part of this wonderful southern community. I hope you enjoyed my first post and I look forward to getting to know you all much better in 2012. Merry Christmas & Happy New Year!