It was about a year ago that I asked my friend if she knew any guys who could take me out to a nice dinner.  She looked around her office and picked Kevin, and set me up on my first ever blind date.  Kevin asked me to dinner over the phone, and suggested we try out a place called Rosebud.  You see, I had just moved to Atlanta and hadn't unlocked the secrets of what great food it has.  I drove down to Morningside and met my blind date outside of Rosebud.
I could say that Kevin immediately charmed me with his great personality and nice sense of humor, but that would be too much of a love story, and not enough about what I was really charmed by; Rosebud.  Not only is the name charming, but Rosebud has an intimate environment and a private kind of feel to it.  Chef Ron Eyester has put together an exceptional menu.  It is sophisticated, with a southern home style touch, and all of the menu ingredients are locally and regionally selected.  I am a picky eater, so to be safe on the first date I went with the Buttermilk Fried Springer Mountain Chicken.  If you have been to Rosebud and have scoffed at this selection as being to "safe", think again.  You might think you know what it's like to have something melt in your mouth, but you don't truly know until you take a bite of the fried chicken.  I recently took a risk and tried the Alligator Fritters, never having tasted alligator before.  I was more than pleasantly surprised!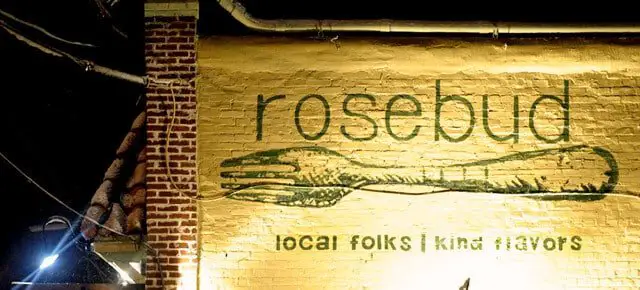 The combination of going on a blind date and having it at Rosebud seems to have worked out, because we decided to go back there for our anniversary.  We have been there throughout the year, and its somewhere we save for our more special dates.  In fact Kevin has asked me to write about it before, but I have always felt like it should be one of our "best kept secrets," until now.  Rosebud might not be a white table affair, but their atmosphere is versatile.  From casual to romantic, you can make it what you want it to be and the service is always excellent.  They have a full wine and cocktail menu, but their beer selection is one of the best.  They have two of my favorite beers, Duck Rabbit Brown Ale and Wild Heaven Ode to Mercy, along with several other great options depending on your taste.  Kevin mentioned that they have some of the best bourbons as well, for that special man in your life.
Whether you're going on a blind date, an anniversary date, or even a special night out with a friend, you will not be disappointed at Rosebud.  It is hands down my favorite restaurant in Atlanta.  Rosebud and Ron Eyester recently opened up a sister bar across the street called "The Family Dog."  I haven't been yet, but I definitely can't wait to check it out!