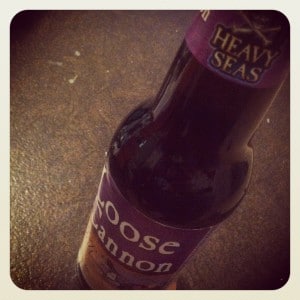 Nothing goes better with aged beef than an American IPA.  Tonight, I chose to pick up a beer that straddles the Mason Dixon line.  The Heavy Seas Loose Cannon forever solidifies Maryland as a Southern state in my mind.
Loose Cannon is an easy going beer.  It's exceptionally smooth.  The citrus notes mellow out the bitter hops taste, which makes it a very drinkable beer.  The spices, hops, and citrus notes are extremely well blended.  It is well balanced, and can be enjoyed during any season of the year (which is not always typical for high gravity beers.)  The after taste of this fine American IPA finishes off just as well.  Citrus flavors kick off the party on your pallet, which then open up to the spices and smooth hop finish.
Heavy Seas Loose Cannon weighs in at approximately 7.25% ABV.
It is one of the most solid American IPA's that I have had in a very long time.
You can find Heavy Seas Loose Cannon throughout the South, but you will most likely have better luck in metropolitan watering holes.  If you have a Taco Mac nearby, they seem to rotate through the Heavy Seas Pyrate Fleet often, so there's a good chance that you will come by one.  Do yourself a favor, and pick this beer up.  I strongly recommend enjoying one… or a few.