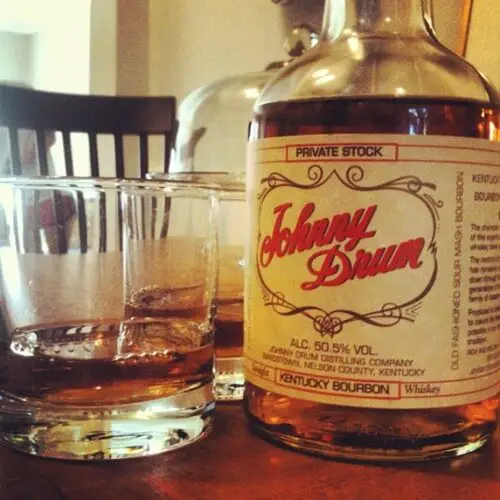 We (the folks of The Trot Line) met up last weekend to have a meeting of the minds, and what meeting would be complete without a few glasses of Bourbon?  Before the meeting, Spencer and I met up at one of the best places to find great spirits in Atlanta, the H&F Bottleshop.  Unanimously, we decided on a bottle of Johnny Drum Private Stock Bourbon to share as we made new plans to take The Trot Line further.
Neither of us had ever come across Johnny Drum before, which could have been one of the deciding factors in purchasing it.  At first glance, the packaging on the bottle looks great.  It is a classic, almost rustic look that causes your mind to wander to the old days of saloons and lawlessness.  Coming in at around $25 a bottle, I really wasn't expecting much; However, as Spencer pointed out in his review of the Beer, Bourbon, & BBQ Festival in Atlanta, great things do not always come with an expensive price tag.
Johnny Drum Private Stock Straight Kentucky Bourbon Whiskey comes from a solid family of Bourbons.  It shares kinship with Willett Pot Still Reserve, under the parent company of Kentucky Bourbon Distillers, Ltd.
We poured ourselves a glass, sniffed the bourbon from the bottle, then from the glass, and to my surprise, the Bourbon was delicious.  At 101 proof, the flavors are not overcome by the alcohol at all.  There is a caramel corn taste that lasts through the finish, complimented by a slight oak flavor.  This isn't necessarily a sweet Bourbon, but very well rounded.  The finish was just as smooth, ending with a medium flavor from the spices.
Overall, this Bourbon was very satisfying, and at the price point of around $25, I will be buying it again.  If you're a fan of Buffalo Trace or Four Roses Small Batch, you will enjoy this Bourbon too.
We highly recommend Johnny Drum Private Stock Straight Kentucky Bourbon Whiskey.