Spring is right around the corner and I'm not sure about you, but I can smell the seersucker. I can also smell the horses as the excitement for the Atlanta Steeplechase builds, an event that I'll be attending for the first time this year. Mark, my husband, and I will be wandering the grounds and photographing the event, particularly the good looks, for Back Down South. With that being said, I'd like to ensure that there will, in fact, be good looks. Mark has asked me a few times already what he should wear. We've seen the Derby, we get the idea: colors, lots of colors, and hats of the large variety. But when it actually comes time to attend something like this, all of a sudden your closet feels inadequate. Changing this was easy for me: I purchased a seersucker Lilly Pulitzer dress and a big hat. Done.
While some men sport hats to horse races, it's not as popular (but if you've got one, I'd encourage wearing it!). What's really necessary is eye-catching color. Break out that seersucker suit if you've got it! Don your bow ties! Step into your go-to-hell pants! Paint the place pastel! Not inspired yet? The looks below may help you, boys.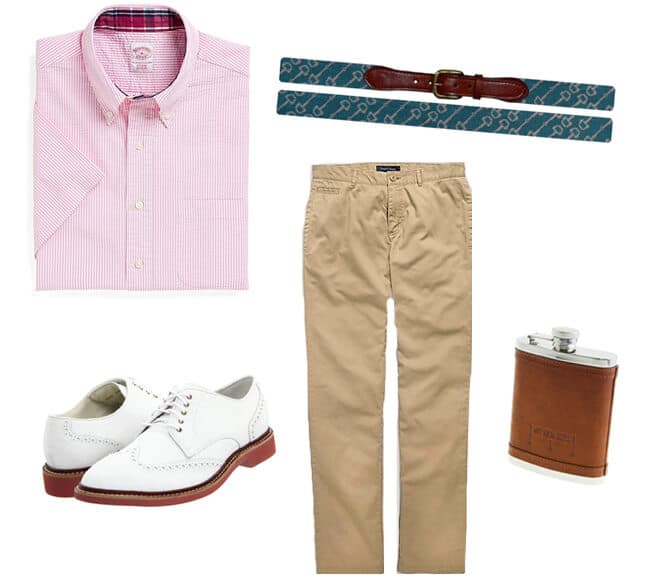 Shirt | Brooks Brothers short sleeve seersucker.
Belt | Smathers & Branson Horse Bits needlepoint.
Khaki pants | These are the Tommy Hilfiger Frenchtown.
White bucks | Cole Haan Air Franklin's.
Flask | J.Crew leather.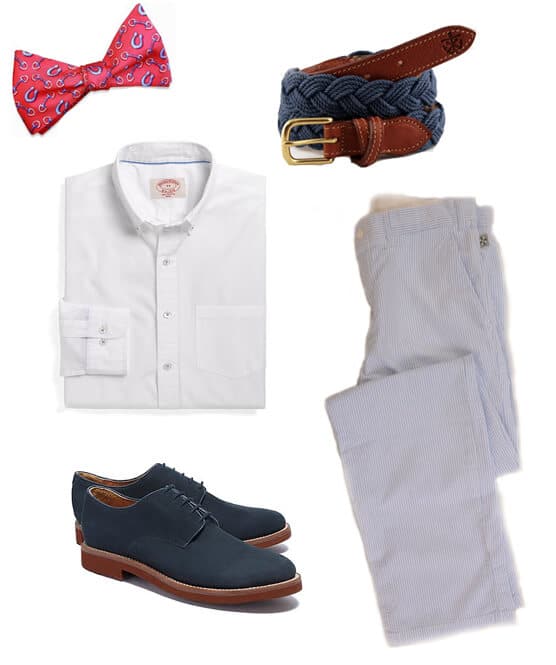 Bow tie | Bird Dog Bay "Bits & Shoes." I also love the Horse & Cup from Southern Proper.
White button down | Brooks Brothers Slim Fit End-on-End.
Rope belt | Kiel James Patrick "Hortock's Compass Rose."
Seersucker pants | Castaway Clothing Harbor pants.
Navy suede bucks |  Brooks Brothers classic.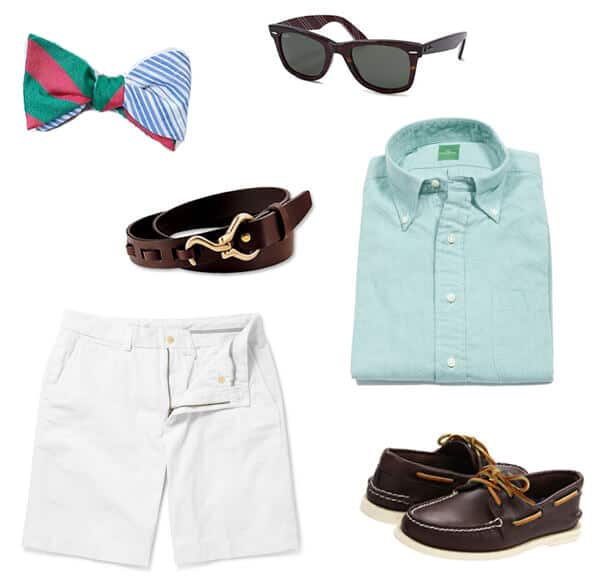 Bow tie | Social Primer for Brooks Brothers.
Ray Ban's | Repp stripe Wayfarer's from Brooks Brothers.
Hoof pick belt | Orvis Farrier's.
White shorts | Ralph Lauren straight fit.
Sperry's | Original classic brown. Can't beat 'em.
Lastly, if you're the kind of guy who just wants to wear a polo, at least get one from from
Cash Robinson
, a company who is inspired by the southern lifestyle seen in Kentucky's bourbon and horse racing. Their
Silk Reserves
would make for the perfect Steeplechase polo.