Bryon Larrence of Ewin's Dry Goods
After stumbling upon Ewin's Dry Goods, I knew that this guy HAD to be cool. Items like whisky rocks, leather goods, custom knives, and shaving kits are not the typical go to when purchasing a gift for a male. Ewin's Dry Goods takes masculine gifts to the next level.
Bryon Larrence, a Tennessee musician, is no stranger to luxury goods. With months at a time on the road, he has been exposed to cool and interesting items all over. A drummer with passion for life's finer things, Larrence wanted to share his favorite items. Style is key in all aspects of his life, whether in his liquor cabinet or on his poker table.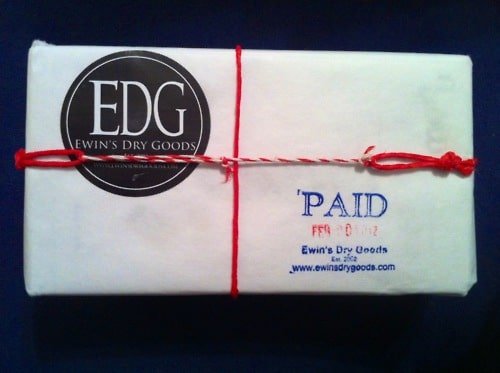 Ewin's Dry Goods was built to provide top quality items to everyone.
Listening to Larrence while he told me the inspiration and story behind the company, I couldn't help but be charmed by the man's soulful southern accent and passion for his dream. His grandfather, Ewin, had told him stories about his own father's dry goods store in the late 1800's. The men in his life cherished good quality items. With that engrained in him, he wanted items that could later become heirlooms. Larrence carefully chooses each item created by artisan-craftsmen. His focus on quality is not only on his products but also on his service, which can only be described as superb.
Gift sets on his site though are probably my favorite part. Packaged together beautifully, you can select online the perfect combination for your whisky lover, wine connoisseur, and a few others. Most packaged in cool cigar boxes, add just another touch of personality.
Bryon Larrence has an eye for great masculine gifts that can be appreciated for a lifetime. Invest in this company, I know that you will not be disappointed.