It truly is a Holy Week here in Georgia. Not only does the world get to see the beauty with which our state is blessed courtesy of the Masters, but this weekend is Easter. To me this means a few things; bright outfits, golf on TV and more southern cookin' than you can shake a stick at. It is our family's official celebration of the arrival of Spring and food takes center stage. We always have a spread of ham, fried chicken, biscuits, potatoes, some sort of casserole/pasta salad from my grandmother and deviled eggs.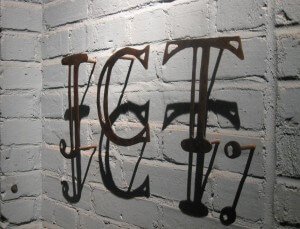 Despite all of this goodness, it wasn't until very recently that I tried my first deviled egg. I know, I know, cue the shock and awe. I recently had the pleasure of dining at JCT Kitchen with friends, who insisted we order the deviled eggs upon hearing of my ignorance. I'm glad they did because I am now hooked.
I was charged by fellow diner Trip Reed to find the recipe and attempt to recreate that bite-sized goodness. I reached out to JCT through Twitter and they kindly sent me the following recipe. I will be making my first attempt at this recipe Sunday. Now you can also.
Enjoy.
JCT Kitchen Deviled Eggs with Country Ham
Serves 6 to 8
Ingredients
1.    10 large eggs
2.    1/4 cup plus 1 tablespoon mayonnaise (I will be using Duke's)
3.    3 cornichons, minced
4.    2 tablespoons goat cheese, at room temperature
5.    2 teaspoons Dijon mustard
6.    1 1/2 teaspoons minced shallot
7.    2 teaspoons snipped chives
8.    Kosher salt and freshly ground pepper
9.    1 ounce thinly sliced country ham or prosciutto, torn into 20 pieces
In a large saucepan, cover the eggs with cold water and bring to a boil over high heat. Remove from the heat and let the eggs stand in the hot water for 10 minutes. Transfer the eggs to an ice water bath until chilled, about 5 minutes.
In a medium bowl, mix the mayonnaise, cornichons, goat cheese, mustard, shallot and 1 teaspoon of the chives. Peel the eggs and halve them lengthwise. Add the yolks to the bowl, mix until smooth and season with salt and pepper.
 Set the egg whites on a serving platter. Scrape the egg yolk mixture into a pastry bag fitted with a large round tip and pipe the filling into the whites; alternatively, spoon in the filling with a teaspoon. Top each egg with a piece of country ham, sprinkle with the remaining 1 teaspoon of chives and serve.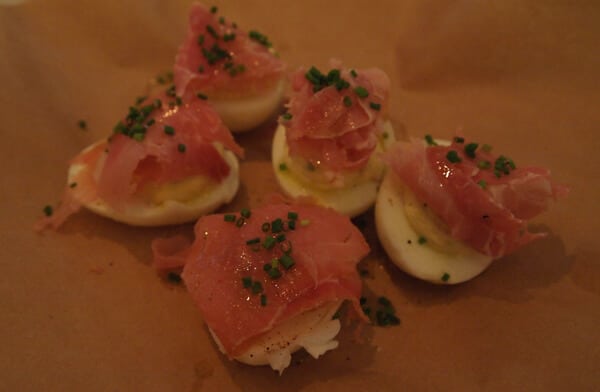 Photo via Fashion Intel