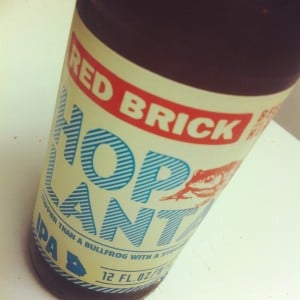 On a hot summer day, I typically prefer a lighter bodied beer, with a touch of citrus.  Something like a Wheat Beer or a Pale Ale would usually make its way into my tailgate cooler.  That is… until I picked up a six pack of Red Brick Brewing Company's Hoplanta.  The Hoplanta is a solid IPA coming from one of the oldest brewing companies in Atlanta, and it instantly resonated as a "summer beer" after I took that first sip.  I'm a big fan of IPAs, and an even bigger fan of tailgating.  Needless to say, I'm pretty happy that Red Brick rolled this beer out into production.
The Taste
Red Brick's Hoplanta is instantly refreshing from the moment it hits your lips.  You have the traditional IPA hoppy notes that lovers of this beer style will appreciate, and then some.  The beer has a crisp, citrus flavor to it throughout the entire swig which is balanced well with the bitterness.  Its finish is smooth, light bodied, and very refreshing.
Our Recommendation
When you head to the tailgate, or throw a backyard cookout this summer, make sure that you have an ice chest with Hoplanta generously stocked up.  It's a great local beer from Atlanta that most will enjoy.
Related articles