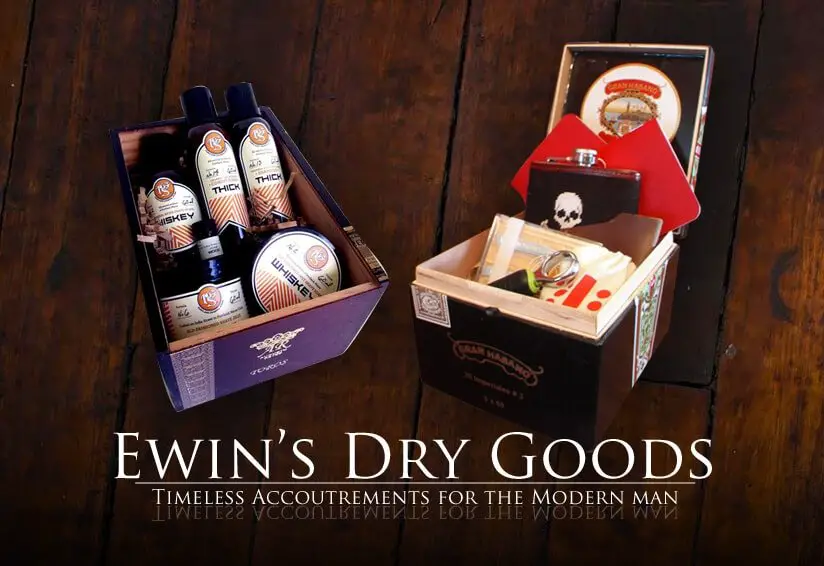 A few months back, we featured a post about Ewin's Dry Goods. Nearly a day later, we had hashed out a plan for an amazing giveaway to help some of our readers find the perfect gift for Father's Day for free!  The guys at Ewin's Dry Goods were kind enough to put together an amazing package for us.
If you're familiar with the company, then you will know that they specialize in "timeless accoutrements for the modern man."  One of the coolest things that they do is put together themed gift sets, which are bundled packages, usually in cigar boxes (extra manly), and they just happen to be the perfect gift for any guy.  As an added touch of masculinity to the gift sets, they are also hand wrapped in White Butcher Paper.
The Goods to Win
Not one, but two lucky guys are going to have the chance to win one of the following packages from Ewin's Dry Goods.
Package #1:  The Collection Box
Black Jolly Roger Flask by Smathers & Branson
Tereforma Whisky Stones
Wurkin Stiffs – Assorted Power Stays
MENU Picnic Corkscrew
Field Notes Red Blooded
Daluca Horween Chromexcel Angel Wallet
Artisan Gift Wrapping
Package #2: Portland General Store Grooming Box
Whiskey Shave Soap
Alpine Shave Jelly
Whiskey After-Shave Splash
Thick Shampoo
Thick Conditioner
How to Win
In order to win, you must:
Like The Trot Line and Ewin's Dry Goods on Facebook
Guys, you need to leave a comment explaining why you think that you (or another guy like your father) deserve one of these gift sets.
Ladies, you need to leave a comment explaining why you think that a certain guy, such as your husband or father, deserve a gift set .
The giveaway will end at 11:59pm on Friday (June 8, 2012.)  We will announce the two winners of the giveaway on the following day (Saturday) at noon.
Make sure that you don't miss out on some amazing gifts from Ewin's Dry Goods!
Full Disclosure:  Ewin's Dry Goods is currently a paid advertiser with The Trot Line.  The advertising agreement is considered separate from this giveaway.  The folks responsible for this site have not received gifts of any kind in exchange for promoting the business through the giveaway.  Each item has been generously donated by Ewin's Dry Goods, which we proudly stand behind and support.  Please read our Full Disclosure Policy if you have any questions about our 100% transparency policy.