There are a few cocktails that define a region or city. Kentucky has the Mint Julep, Texas has the Margarita and New Orleans has the Sazerac. In fact, in 2008 the City of New Orleans finally made it official, naming the Sazerac the official cocktail of the Emerald city. The creation of this southern staple is credited to Antoine Amadie Peychaud (same as the bitters), the Creole apothecary who moved to New Orleans from the West Indies in the early part of the 19th Century. Over the years The Sazerac recipe and ingredients have changed. We now enjoy Rye whiskey as the main spirit, when it was originally mixed with cognac. Despite its "evolution" this quintessential southern cocktail has remained a favorite and ritual of sorts for booze-hounds everywhere. I certainly enjoy it while I'm sitting on my screen porch.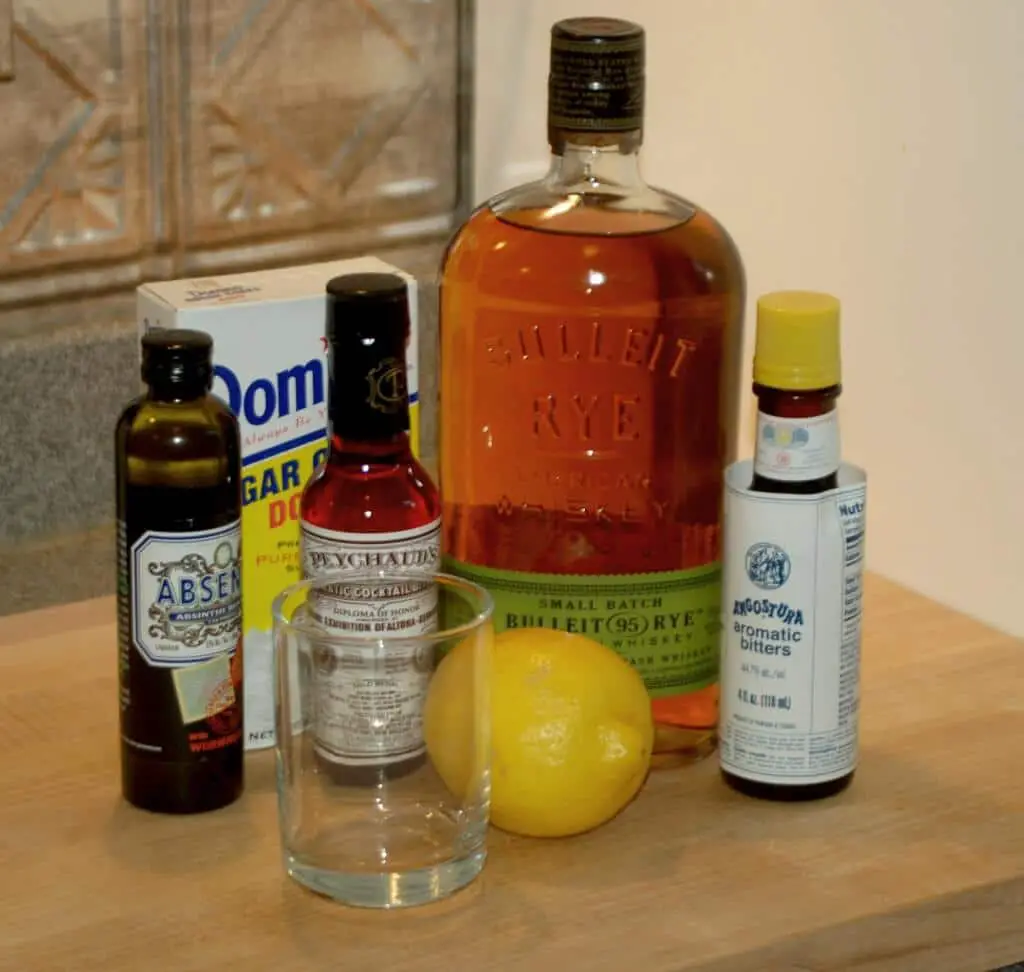 To make a sazerac you will need:
1-2 sugar cubes depending on size
1 frozen rock glass
Peychaud's Bitters
Angostura Bitters (optional)
Absinthe
2 oz. of Rye Whiskey
Lemon Peel
Put a rocks glass in the freezer and grab another one to mix the drink in. Take two sugar cubes and add in Peychaud's Bitters. A lot of recipes say "two or three drops," but this is a little weak for my taste. Give the bottle several good shakes to saturate the sugar cubes. Sometimes I add a few drops of Angostura to add a little depth of flavor. Muddle the sugar cubes and bitters, then pour a bit of water (less than 1/3 oz.) in to help the sugar dissolve. Swirl the contents until the sugar is mostly dissolved. Next I fill the glass with ice and pour 2 oz. of Rye whiskey and stir until cold. I used Bulleit Rye this time, but there are a ton of great Rye options available out there. Next, take the other rocks glass out of the freezer and pour a couple of drops of absinthe to coat the glass. After coating the glass, toss out the excess. It can overpower the rest of the drink if there is too much left over. Finally, strain your "cocktail" into the frosted glass and serve with a twist of lemon peel. A special thanks to Trip Reed for introducing me to the Sazerac and giving me the recipe.
Watch a video walk through on the Sazerac from Master mixologist Chris McMillian.
There you have it, your own little taste of New Orleans. Mix one up and enjoy!
Cheers.