A few months ago, Charlie and Jim of American Spirit Whiskey invited me to join them at The Family Dog in Atlanta. I was coming down from Marietta, so I knew that I needed to leave a bit early to make it to Virginia-Highlands a few minutes early. Of course, I managed to take the route with anaccident blocking 3 lanes on i75. Halfway there, my tire pressure monitor went off and I was already a few minutes late. I pushed through Virginia-Highlands on a half inflated tire (which will damage your tire… don't do it) and parked in the first spot next to the door.  That sort of made up for the fact that my driver side window decided not to roll up as well. I left that sucker rolled down and marched into the neighborhood restaurant.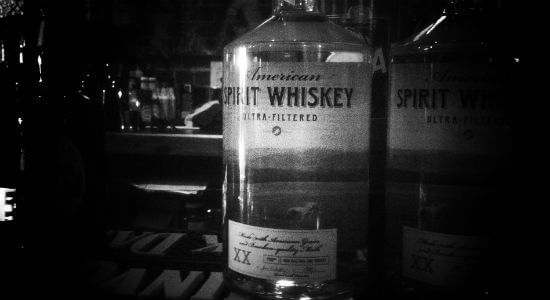 Our branding also very much recalls simpler times and the rural South.  We want to be a part of the movement exporting southern culture.
After walking in, Charlie waved me down to a booth towards the bar. They had a few drinks in front of them already, so it was time for me to catchup.  Charlie and Jim instantly reminded me of a few friends of mine, and they seemed to be just as friendly and down to earth as them as well. It was the first hot day of spring, and after struggling outside with a car that seemed to hate me, Jim suggested that I order one of their favorite drinks; the Southern Mule (see below for the recipe). Once I took the first sip, it was instantly added to my summer cocktail repertoire.  We finally got down to business, and I asked the guys a few questions (while indulging in a handful of other ASW cocktails as well.) Here's how it went down:
Q&A with Jim and Charlie of American Spirit Whiskey
The Trot Line (TTL): How did you guys decide to go into the moonshine business?
American Spirit Whiskey (ASW):  We are two guys who happened to have an exceptional love for whiskey.  Neither of us have a background in the beverage or hospitality business.  We just started talking about making our own product one night over a bottle of rye in late 2009.  We want to ultimately make an aged product, but we needed to start with something clear.  Our thought was to create something that was technically a whiskey (as opposed to vodka or gin) but that was moderate and accessible enough for anyone to drink.  We discovered the "spirit whiskey" category and began to develop our own product.  Over the next two years, we developed the brand and the product in our spare time, and American Spirit Whiskey was born.
TTL: Why did you decide to produce white whiskey over something more commercially traditional? Did growing up in the South play a roll?
ASW: The South absolutely played a role – it's written all over the branding.  The bottle features a scene from the Rabun County, Georgia mountains and an American Bulldog, which is very much a southern breed.  We both grew up encountering those clear, curious concoctions that you can't find in a package store, and both have a family history of, shall we say, homemade brews.  Out of sheer principal, we refused to make a vodka.  It's overdone and, as Charlie likes to say, "doesn't your little sister drink vodka"?  That said, our product is very moderate.  We didn't want to make something people would regard as a "moonshine" and that would be too aggressive to drink.  On the spectrum between moonshine and vodka, we are somewhere between the midpoint and vodka, so we're not trying to be a "white lightin'".  Our branding also very much recalls simpler times and the rural South.  We want to be a part of the movement exporting southern culture.
TTL: How does American Spirit Whiskey differentiate itself from other white whiskeys?
ASW: Accessibility.  Unless you are a big time whiskey connoisseur or a super talented mixologist, you're probably not going to enjoy our competitors' products very many times.  Our product is very easy to drink on the rocks or up, or you can mix it with one thing like ginger ale or tonic and it will taste good.  
TTL: What are some of the other names you tossed around before deciding on ASW?
ASW: We didn't seriously consider too many others.  We wanted to own the Spirit Whiskey category, and we liked the "double benefit" of putting "American" and "Spirit" next to each other.  The name sounds like something familiar and that has been around for a while.
TTL: What is your favorite summer cocktail made with ASW?
ASW: We are big fans of the Southern Mule (ASW, ginger beer, lime juice, bitters).  This one is easy to make, super refreshing and goes down (dangerously) easily.
TTL: Where are a few of your favorite places in the South to enjoy one of these summer cocktails?
ASW: We are big fans of the porch (front or back) for a cocktail.  For early season college football games when it's still too hot for bourbon, ASW on the rocks is a fantastic way to go, or you can throw it in to bloody mary mix and make a Southern Mary.  There are some great bars that are carrying the product as well, like The Family Dog, Rosebud, H. Harper Station, Empire State South, Local Three and many others.
TTL: How are you getting the word out about ASW?  Local bars? Local bottle shops?
ASW: We participate in lots of events to introduce people to the product.  Not many people walk into a bar or store and ask for the white whiskey options, so we try to get out in front of people and let them experience the product and hear our story.  We very much enjoy charity events – we have supported 20 different charities since we launched in November 2011, and that's a very important part of what we are about.  We are in a ton of bars, restaurants and bottle shops – check out our website for a full list, updated weekly. We also rely heavily on social media like Facebook and Twitter to get our message out.
The Final Pour
I've tasted quite a few moonshines before, and this white whiskey isn't something that your cousins are brewing up. That's a good thing. It is one of the most versatile whiskeys that I have tasted. ASW is easy to enjoy neat, or as I was lucky enough to experience, in a wide variety of cocktails. One of the exciting things about this white whiskey is that it has been embraced by local mixologists behind the bars and in bottle shops. This makes for some fantastic cocktail recipes to enjoy.
Must Try American Spirit Whiskey Recipes
The fine folks at The Family Dog were kind enough to shake up a few cocktails for us. Here are two of favorites. As the heat has finally hit, both cocktails are must haves for any cookout or lounging around on the dock this summer.
The Southern Mule
2 oz ASW
1 dash Angostura bitters
0.25 oz lime juice
Add ginger beer to finish, and garnish with 1 squeezed lime slice.