Camping is a unique experience. You are consciously choosing to leave your bed, electricity, running water, and oven behind. What you receive is the opportunity to breathe fresh air, pack down to the essentials, and view life through a different lens. There are several different ways we can define the camping experience (car camping, glamping, etc), but I'm going to focus on helping you take an overnight backpacking trip.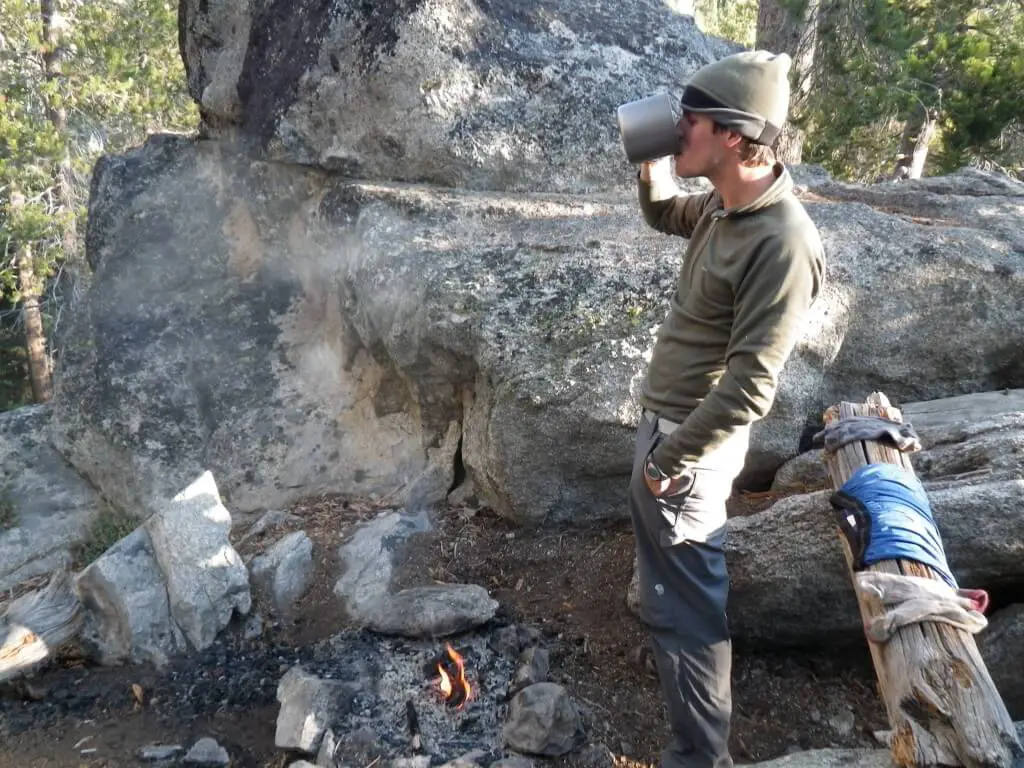 Instead of the usual park-the-car-and-set-up-a-tent , I'm going to be talking about trailheads and primitive sites, among other topics. Truly getting off the beaten path and making camp is an empowering experience, and builds confidence towards longer trips. The benefits are even greater, as the possibility of what you can see and do widens in scope. Sunrise and sunset over the mountains, fishing in the river, secluded swimming holes, and s'mores before sleep make for an unforgettable trip.
For many people, we don't go on overnight backpacking trips because we don't where to start, and don't want to look foolish or unprepared. Here's where you can start!
Basic Equipment
Backpack:  For a single night, look for a backpack in the range of 25-30 liters (1700-2000 cu in). This gives you enough room to pack the essentials, without a whole lot of extra weight or space. If you're thinking ahead to multi-day trips, go for 40-60 liters. REI, Osprey, North Face, and Mountain Hardwear all make great equipment that will serve you well. I personally use the Osprey Talon 33 for 1-3 day trips.
Tent, Tarp, or Hammock:  Pick up a good tent with a rain fly, like the REI Half Dome 2. If you want to be even more rustic (and save weight) consider sleeping under a tarp, or in a hammock (like the ENO doublenest). You can also go all the way and sleep under the stars, but I do recommend having at least a tarp for rain showers.
Sleeping Bag:  If you're mostly camping in warm temps, go with a 40-45 degree sleeping bag. Don't be tricked by fancy ratings and loft numbers, you don't need anything crazy. What concerns you are packed size and weight. Since we live in the south, where rain is always a threat, buy a synthetic-insulated bag, since it dries faster and stays warmer when wet (unlike down-insulated bags). The Mountain Hardwear Lamina Z is a good choice.
Sleeping Pad:  For beginners, this is an under-appreciated part of your gear, but experienced backpackers can over-hype them! A sleeping pad does 2 things, it creates an insulated barrier between you and the ground, then also provides cushion. Therm-A-Rest is the standard for pads, and you can start with the Ridge Rest (light and cheap).
Rain Jacket:  Anything you want to bring is fine, just something to keep the rain off you. Especially in the mountains, hypothermia is a threat even in the summer. Besides, who wants to be soaking wet?
Dry Clothes:  Tagging on to the rain jacket, bring at least a dry shirt and shorts, even if the weather is clear it can be comforting to slip in to some clean clothes. Pack in a grocery bag to keep them dry in your pack. If the temps may dip in to the 50s, consider a long-sleeve shirt or fleece to stay warm.
Food and Water
Take whatever you like, but consider the 3 things:
How many calories do I need to replace?
Does the food need to be cooked? If so, how?
Do I need any cookware or utensils?
Instead of thinking about your food in terms of meals, think about how far you are going to hike (or be out), and how much food you'll have to consume to sustain that energy level. If the food needs to be cooked, you'll need to bring a pot or pan, along with a stove. For a light, easy to use stove, the
MSR Pocket Rocket
 gets the job done, or a 
Jetboil
 (don't forget
fuel
). Also bring along some cutlery if you'll need it. To keep it simple on your first trip, I recommend taking some pre-made sandwiches, snack bars, fruit, and trail mix. This will fuel you up right without the fuss. For all my fellow coffee addicts, I always bring packets of
Starbucks Via Italian Roast
 and Sugar in the Raw. Keep in mind you will need a stove to heat the water!
Finally, about water, you have 4 main options:
Pack all your water (2 quarts per day drinking)
Use a filtration system like Steri-Pen
Use iodine tablets (most economical)
Boil the water (not ideal for drinking, but ok)
Logistics
The South is an incredible part of the world to explore, with varying terrain, lands, and weather. For ideas on where you can go, check out the Backpacker.com Destinations page, or pick up a copy of Trekking the Southern Appalachians.
If you are unfamiliar with the area, purchase a map. It could literally be a lifesaver if you happen to get lost! Similar to when you go on a day hike, you should also tell a friend or family member the details of your trip, i.e. location and duration. In case something goes wrong, you're well served to have someone who knows where you are! Be sure to check back in when you return.
The Campsite
When you're searching for a site, most state and national parks have specific sites you may choose from. If not, try and find a site which has been used before. Look for existing fire rings and clearings, so we don't continually clear space in the forest. I always try to be close to the water, mainly for drinking, but also for cleaning and perhaps a morning swim! Make camp on level ground, it will pay huge dividends when sleeping.
In regards to our furry friends, don't feed or bother them, after all you're on their turf! If you have any extra food or trash, you need to hang it out of reach. For a simple explanation, Backpacker Magazine has a short article about it.
Leave No Trace
The best slogan I've heard is "Take only pictures, leave only footprints". When spending time in nature, we don't go to see beer cans, trash, and cut trees. Don't be a part of the problem, and pack out everything you bring in! In fact, as often as possible, take some extra trash out with you. There should be minimal signs of your presence.
Entertainment
I have been engaged in some great discussions around a campfire, and it's a great place to disconnect from everything that distracts us! But besides the company of your friends, bring a deck of cards, books, tell stories, play harmonica, sing, or plan the next trip!
Back to Civilization
When you come back, let your friends and family know that all is well. After, take a hot shower, eat a good meal, and consider where you may go next! You may even be thinking about longer trips, that's great! A lot of what we talked about still applies for longer trips, just bring more food and coffee!
Question: Where are your favorite backpacking destinations in the South? Are there any other tips you'd like to share? We'd love to hear your thoughts!
Disclaimer: The products linked to are Affiliate links, which means I receive a small commission (4%) if you purchase the gear. This is done at no additional cost to you! Amazon is simply the best online marketplace, and has a great return policy. I also recommend REI, because of their lifetime guarantee on all products sold.