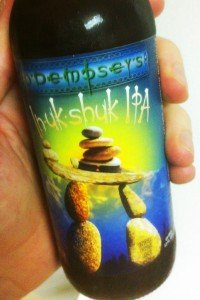 For the past few years, I have had the worst of luck at making my way to an O'Dempsey's tasting. The last time I missed them was at the Great Atlanta Beer Festival, which I had unfortunately had to skip out on due to last minute travelling plans. Finally, I found a 6 pack of Inukshuk IPA at my local Whole Foods. At the time, I had been tempted by another one of my local favorites. However, like any wise man in this situation, I decided to pick up both!
After I made my way home and turned on football, I cracked open a bottle of the O'Dempsey's. Here's what I found…
Stats and Appearance
For the sake of giving a great review, I confess to enjoying all six of these beautiful beers. Fortunately for you, the reader, I didn't enjoy them all at once. Here are a few facts about the Inukshuk IPA by O'Dempsey's.
7% ABV
69 IBUs
Style: American IPA
The Inukshuk Taste
O'Dempsey's Inukshuk IPA is a well balanced IPA. The bitter hops flavor lasts throughout the swig, but is never overwhelming. When it first hits your lips, the Inukshuk IPA gives you a West Coast punch of hops and citrus, and then it finishes mild and malty. This is a beer that would please hop heads and make believers of those who don't venture out into the IPA world.
Simply put; it's a damn good beer.
The Verdict
O'Dempsey's Inukshuk IPA: It's a Keeper! (Strong Recommendation)