There are bourbons that I could go out and buy for $45 and up, and enjoy very much. Then there are a few (probably less) bourbons that I could spend $25 for, and fall completely head over heels over. These types (the less expensive) of bourbons don't come around often, but Four Roses Small Batch Bourbon stands out as a strong competitor with the pricier brands. At The Trot Line, we try to keep an eye out for those special buys. The affordable price for this solid American whiskey makes up only a small fraction of what makes it such an alluring buy.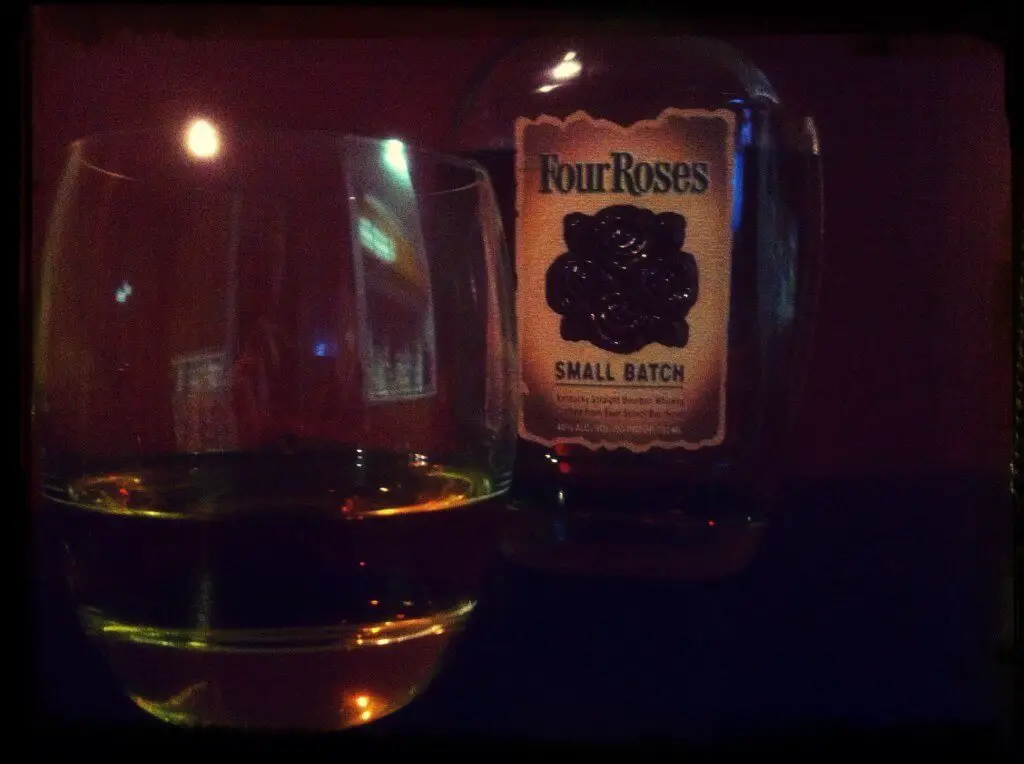 About Four Roses
The story behind Four Roses goes back to a man pursuing a beautiful Southern belle. That man was Paul Jones Jr., the founder of Four Roses Bourbon. He met his love at a ball, where he found her wearing a beautiful gown with a corsage of four roses. Thus, he named his bourbon after her. That love story pushed through some of the toughest of times for individual liberty in the United States. Yes, I'm talking about PROHIBITION.  Four Roses Bourbon was one of six distilleries to be granted permission to operate and produce liquor for medicinal purposes during the prohibition era. In 1943, Seagram purchased Frankfort Distilling Co and moved Four Roses across Europe only. Thankfully, Kirin Brewery Company purchased the Four Roses brand, and brought the Kentucky Straight Bourbon back to the United States in 2002. Since then, Four Roses Bourbon has been making a big splash in the American whiskey world.
The Sipping Experience
The bourbon looks beautiful in the glass and custom engraved bottle. It has a medium dark caramel color to it. The small batch bottle is striking on its own with the four roses engraved in the glass on the front.
At 90 proof, Four Roses Small Batch Bourbon is fairly tame and smooth. As you take your first sip, the spices make their way over your tongue and may refresh your sinuses (medicinal purpose?). If you didn't take a quick whiff when you opened the bottle, the pleasant mixture of spices and sweetness connect as they slight bite hits your lips. This small batch is creamy, with hints of caramel and a mellow oak finish. With every sip, the smooth flavor seems to last leaving you wanting more.
The Verdict
As I mentioned before, we are always keeping an eye out for affordable bourbon whiskeys to try and write about. Thanks to the help of Ryan Pernice at Table & Main, we have a few more suggestions for you in 2013.
For this post, I'd have to say that Four Roses Small Batch Bourbon Whiskey is worth breaking out for an after work drink, or serving up on extra special occasions. This is easily one of those bourbons that you want and can keep in your liquor cabinet at all times. Here's the *official rating from The Trot Line:
Rating: It's a Keeper
* To read more about our rating system at The Trot Line, learn the official ruling here.