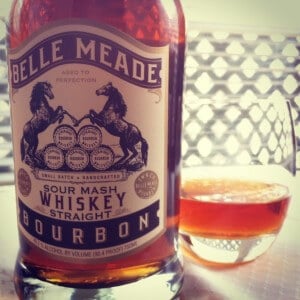 This is a great time to be an American whiskey drinker. It seems as if this amazing part of our heritage is making its way back into the spotlight in a major way. If you have been keeping an eye on whiskey expansion like we have, then you have most likely noticed the high quality products making their way to the market. While Kentucky tends to steal the spotlight for bourbon, they are by no means the only state producing high quality whiskey. Tennessee has made some major changes to their distilling laws recently, opening up the market and breaking down walls that were previous up for whiskey producers. Let's just say that I strongly approve of opening more doors for these artists to make a living and add flavor to our lives as well.
About Belle Meade Bourbon
A few weeks ago, I headed over to one of my favorite southern taverns and enjoyed a flight of bourbon. I was introduced to Belle Meade Bourbon of Nelson's Green Brier Distillery in Tennessee, and it immediately stood out to me. The Nelson family story draws back to the traditional "American dream," where a German immigrant brought his family over for a chance at a better life. To make a long story short, Andy and Charlie Nelson revived their family's whiskey distilling tradition in 2009. The first brand to come off of Nelson's Green Brier Distillery is Belle Meade Bourbon.


The Sipping Experience
I feel sorry for the generations that missed out on this whiskey. Belle Meade Bourbon is soft with the corn sweetness throughout the entire sip. The sweet caramel flavor begins to dissipate as the rye peaks through. The spice becomes much stronger towards the end, but remains pleasant throughout the entire sip. It's perfect for those cold nights by the fire or sitting in the bleachers.
At 90.4 proof, this Tennessee bourbon is excellent for enjoying neat. If you want to bring out the sweetness a bit more, add an ice cube  and sip at will. I've heard that this is a great bourbon for making a mint julep, but I just couldn't bring myself to mixing it. Out of state, I have only been able to find this whiskey for $40 and up. I've heard and read that you can find a bottle for under $30 the closer you get to the distillery. Perhaps that's a good excuse for a trip to Tennessee!



The Verdict
I wish I had a cigar to enjoy with Belle Meade Bourbon. A nice earthy Maduro would have been amazing with this American whiskey. That said, I wouldn't bust this bottle out every day. Personally, I would like to make sure that this whiskey lasts for those special occasions.This bourbon is meant for savoring, with the great company of friends, family, or tobacco.
If you're lucky enough to run into this bottle of small batch bourbon, you need to grab it.
Our Rating:
It's a Keeper!
Grab this bottle, pour a glass, and enjoy it.
*Learn more about our rating system.