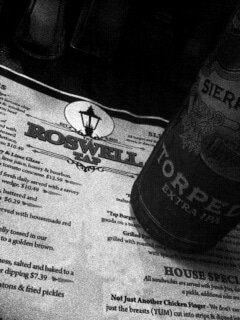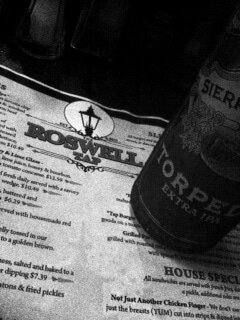 Over the past few months, my work load has literally doubled. Consequently, I spend some of Saturday and most of Sunday working on my computer. Fortunately, it works out really well with my wife's work schedule. Tonight, I'm working from The Roswell Tap, a local neighborhood pub that's a hop, skip, and a jump away from historic downtown Roswell. It's been on my list of places to try since I moved to the area a few months ago, and I finally get to test it out while my wife hosts a wedding shower at our place.
The Historic Roswell Area
If you're familiar with the area, you know that Roswell is going through a very cool revitalization. After living on the Decatur Square, and just a few blocks from Virginia Highlands, I've been spoiled with exceptionally cool restaurants and bars all in one place. Roswell is attracting talented, creative entrepreneurs who seem to share the same passion of making Roswell more of a place to be and meet friends, rather than just another suburb.
The Roswell Tap Location
Veer to the right towards Alpharetta Street and pass by historic Roswell on Canton Street. It won't be long till you see the 100 year old house on the left with "The Roswell Tap" stamped across the front. Parking is in the back, which is typical for this area where old homes have been converted into restaurants. Right now, they have an extra large March Madness bracket hanging up by the bar and all TV's have the games up on the TV's. I called ahead and asked if they wouldn't mind me working in the corner somewhere. When  I plopped my laptop bag down, the blonde bartender that I had talked to came up to me, introduced herself and shook my hand. Immediately, the place earned some points for good manners. I ordered my Buffalo Trace (neat) and started working.
Food, Booze, and Feel
Five minutes into working, I ended up being distracted by the guys who were already a few deep by 7PM. The dinner crowd hadn't hit yet, so they weren't bothering anyone. I got the impression that the guys were regulars, which is a good sign in my opinion. Eventually, I looked over the menu. I happened to be sitting directly under a Southern Living article framed on the wall, featuring The Roswell Tap, and a few other favorites in the area. Thanks to their recommendation, I went ahead and ordered the Grit Chips with collard green and smoked bacon dip. The dip and grit chips didn't last long. I demolished it by myself fairly quickly (not for lack of serving size.) If you aren't big on bacon, this dip is still worth it. You won't be turned off by a strong bacon flavor.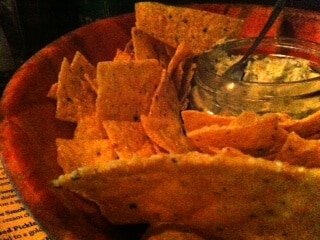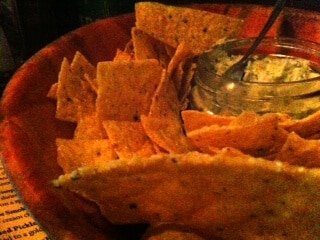 The bar is clean, well organized, and it just gives off a comfortable vibe. If the wood floors weren't original, I'd be surprised. One of the things that I love about these buildings is that they come with character. Despite their lack of local brews present (they were still stocked up with Irish beers for St. Patty's day), I still enjoyed a delicious Sierra Nevada Torpedo IPA Tall Boy. Everything was delivered pretty quickly. Despite a demanding bar crowd, I never waited more than a couple of minutes for a refresher of bourbon or beer.
Catch and Release or a Keeper?
If you're looking for a neighborhood bar, this fits your needs pretty well. Hell, they have $2.50 PBR Tall Boys too! This might not be the place you bring your out of town friends when they visit, but it is the neighborhood pub this area has needed. Your visiting friends will be just fine with some live music, a stomach full of comfort food and good booze, and the very friendly service.
The Verdict: It's a Keeper!
Stop by The Roswell Tap if you're in the neighborhood. Pull up a seat at the bar and enjoy a few laughs with friends. Get to know your bartenders and tip well. This is the place for folks in the area to kick back and relax.
1090 Alpharetta Street
Roswell, Georgia 30075
(p) (770) 992–9206