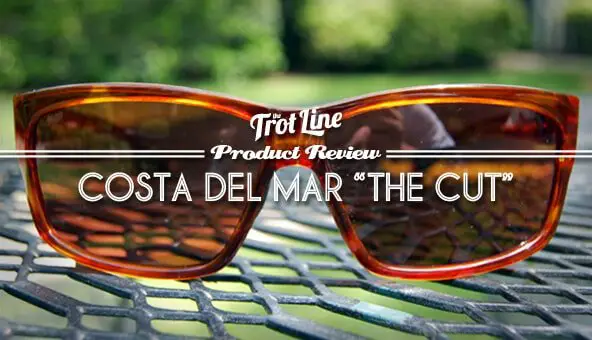 Spring is probably my favorite time of the year to live in Georgia. Baseball season is in full swing, the pollen is receding and Atlanta's population is flocking to the multitude of porches and outdoor festivals around the city. All of this outdoor fun makes a good pair of sunglasses an essential part of your wardrobe. Lucky for me, Costa Del Mar asked if I would review their new "Cut" frames. I know Costa has a stellar reputation for making quality sunglasses for fisherman and sportsmen, so I said sure.
Review of the Costa Del Mar "The Cut" Sunglasses
They allowed me to choose the frame color I wanted and I went with the 'Honey Tortoise' style with copper lenses. I have been wearing them around for the last month or so getting a feel and I couldn't be more pleased with them. The "Cut" frames are less "sporty" than what Costa is known for, which has allowed me to feel comfortable wearing them anywhere/anytime.
Personally, I like to buy products that are versatile and that I can use in many environments/situations so I have been very pleased with these glasses. They have a very similar profile to the southern staple wayfarers, but still possess the functionality that is at home on the golf course on the water thanks to their great lenses. They are very light, which allows me to wear them all day without them getting heavy or uncomfortable.
For my first pair of Costas, these frames fit my lifestyle better than I expected. In fact, it appears Costa is expanding their catalog by designing frames for any occasion, so if the "Cut" frames aren't your thing, they probably have something for you. Regardless of what spring extra-curriculars you are into, I'd recommend getting a new pair of sunglasses and heading outside. Atlanta, and the south in general, has a lot to offer this time of year. As for me, I'll be posted up on a porch somewhere, with an adult beverage and enjoying the scenery.
Rating: They're Keepers
Favorite Feature: Their light weight combined with a versatile design make them appropriate for any activity.
* Read more about The Trot Line's rating system.
In the interest of full disclosure, Costa Del Mar, provided these glasses for review at no cost to The Trot Line or reviewer. Learn more about our Full Disclosure Statement.