When I first started drinking bourbon, I thought that there were two types: crazy cheap and Woodford Reserve. Thankfully, I've had bourbon loving friends like Spencer who have joined me on my journey to find well rounded, sip worthy bourbons that are affordable too. Every few months, I like to share my top 5 favorite bourbons that are under $35 (for .750ml). Feel free to leave one or two of your favorite affordable bourbons in the comments below.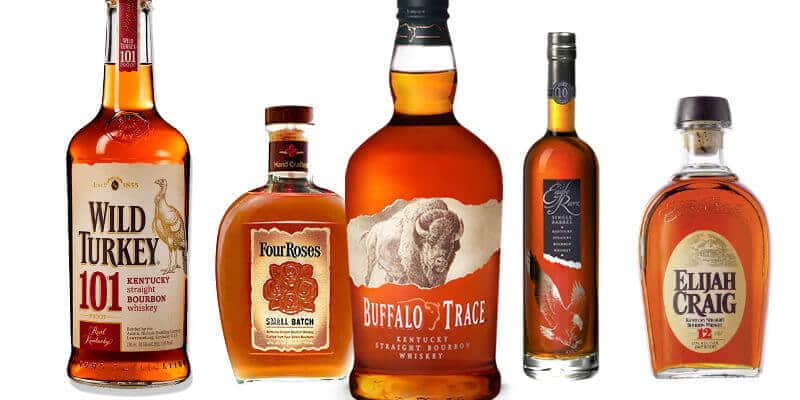 Never Sacrifice Quality Due to Your Bourbon Budget
Wild Turkey 101: This was a huge surprise for me in 2013. In my mission to test small batch, hard to find bourbons, I had completely forgotten to give the bird a try. The Wild Turkey 101 definitely has a bite to it, but you won't notice it until the end.  You can find it (in Georgia) for around $38 for 1.75L.
Buffalo Trace: This has been a strong, trustworthy bourbon in my cabinet. It's the one bourbon that I can bring to a gathering and always turn someone into a raving fan. It's a great sipping bourbon, but inexpensive, and delightfully smooth enough to mix into a summer cocktail. I suggest making a Kentucky Mule. You can find Buffalo Trace in Georgia for about $38-40 for 1.75L.
Elijah Craig 12 Yr Old: I started to write a review for this bourbon when I first tried it, but sadly I never finished it… Possibly due to me going back for thirds. Elijah Craig is a smooth, mellow bourbon that is hard to beat for the price ($24 for .750ml). You get the typical sweet caramel and vanilla, but then the oak comes in at the end to finish it off. Elijah Craig 12 Yr Old very enjoyable.
Eagle Rare 10 Yr Old: Again, my love for earthy and oak flavors has pulled me over. Eagle Rare 10 Yr Old is part of the Buffalo Trace family, but its caramel and vanilla notes are more subtle, as a more pronounced oaky, leather flavor balances it out. I've been lucky enough to find this bourbon at $27 for .750ml and $47 for 1.75L. If you ever find it for around the same price, jump on it.
Four Roses Small Batch: I love the balance of sweet and spice in this bourbon. After trying a few bottles, it's fairly consistent and always a good buy for around $26 for .750ml. There's a creaminess to this bourbon that makes it more enjoyable during the cold, winter months. Four Roses Small Batch is a great buy, and it deserves a spot in your personal collection.
Bonus: Updated [2017] Affordable Sipping Bourbons that Should Be Mentioned
W.L. Weller Special Reserve: It's not much of a secret anymore, but there once was a time that you could find W.L. Weller on the bottom of every liquor store shelf. In my mission to find dirt cheap bourbon that was also great, I stumbled onto the entry level Weller. Interested? Find out why W.L. Weller is actually pretty good.
The Wrap Up
There are quite a few other bourbons that almost made this list. Some of them didn't make it simply because I have only had them once, and I had never had the opportunity to test their consistency. All five of these bourbons I would gladly serve to good friends and guests, as well as enjoy them by myself while writing a piece for The Trot Line. Check them out, and let us know what you would suggest our readers try.
Cheers!