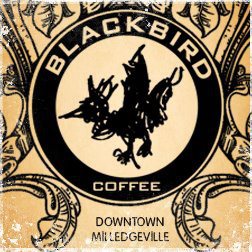 My first job while in college was as a barista at Blackbird Coffee in Milledgeville, Georgia. Not only was it a coffee shop, but it was also a small batch roaster. Once or twice a week, I'd walk into work to the smell of a freshly roasted batch of beans. The job gave me an appreciation for the craft of everything coffee.
Up until Friday, it had been 4 years since I had walked through the coffee shop. Blackbird Coffee, set in historic downtown Milledgeville, was never lacking any character. The exposed brick walls and the skylight over the service area were always my favorite aesthetic features. After my recent visit, all I can say is, "Wow!"
Walking Into the Coffee Shop
The shop has gone over some fantastic upgrades over the years. One of the most impressive facelifts came from the concrete bar that extends what must be about 20-25 feet. It adds a bit of modern appeal to this historic building. Of course, that was the first thing that I had noticed.
If you have never been to Blackbird Coffee, then the first thing that you and most other people will notice is the roaster towards the front of the shop. It's a beautiful, bright red, starting point for all of their coffee served. Chris, the GM, and Bailey are the ones responsible for roasting every week. If you're lucky, you can walk into the shop while they're roasting.
The Roasts
Blackbird has done a great job of narrowing down how many origins and blends that they roast and serve (by the cup, or you can purchase by the pound.) While their focus has always been about serving fresh, small batch coffee, it seems as if they have become even more meticulous about serving high quality roasts. For me, I would rather see a restaurant or bar serve five great menu items versus one hundred that are just okay. Blackbird seems to have taken that next step into high quality small batch roasting, and it's fantastic!
After speaking with Chris, I decided to take home a pound of the Guatemala, which had been roasted just four days ago. (Pictured pre grind at bottom of post.)
What's Offered
The menu is more accurate to a real cafe than a Starbucks. For example, you will receive the traditional amount of froth in your cappuccino versus the American styled that you would receive at other coffee shops. Blackbird is meticulous about the art of coffee. One of my former roommates even won a few awards (pictured right).
Blackbird Coffee offers a variety food and speciality drinks. You can order a can of local Terrapin's Recreation Ale, or one of my favorites, the Blender. The Blackbird Blender consists of espresso and fresh scooped ice cream. Think of a Frappuccino, but 100x better.
You can also order freshly made sandwiches, craft sodas, and specialty desserts. My favorite dessert, then and now, has to be the peanut butter cookies. If you're a PB fan, then you can't pass up one of these oversized circles of joy.
The Verdict
It's a keeper!
If you're visiting Milledgeville, for either a historic visit or campus tour, then you can't skip out on Blackbird Coffee. It's a local favorite, filled with arts, high quality caffeine, and friendly service. Don't miss out on this local find.
114 West Hancock Street
Milledgeville, Georgia 31061