One of my favorite things about Colorado craft beers is that most breweries truly embrace canning and the freedom it provides their customer.
14er Brewing, located in Denver, Colorado, is a hat tip to the Rocky Mountains west of the brewery.
What's with the Name, "14er"?
If you're unfamiliar with the term 14er, it's referring to mountain peaks that are 14,000′ and greater. There happen to be about 58 peaks in Colorado that could be categorized as a 14er.
Conquering all 58 14ers is kind of a thing in Colorado. Check out the hashtags on Instagram when you get a chance (or see pic below).
But back to more important things… the beer!




The Double Mt Massive IPA
As a leader of craft beer in the United States, Colorado has plenty of styles and breweries to choose from. 14er Brewing totally embraces the Colorado mindset.
Uniquely Crushable craft beer designed for bagging 14ers whether that's on foot, a bike, or skis. 14er beers pair with the never ending adventure that is Colorado. – 14erbrewing.com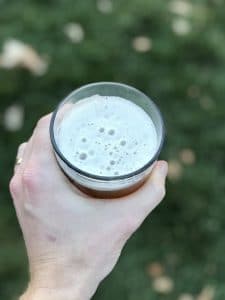 Stacking up at 8.3% ABV, the Double Mt Massive IPA by 14er Brewing doesn't hit as hard as it might seem.
The flavor is fruity and tropical. One of the interesting flavors that I picked up on was apple. It's not overbearing at all, and compliments the heavy hop profile.
According to 14er Brewing, Double Mt Massive IPA is brewed with Citra, Amarillo, Mosaic, Cascade and Centennial Hops.
For a double IPA, this 14er finishes crisp just like the top of a snowy Colorado peak.
The Verdict on this Beer
If you live in Colorado or plan on visiting sometime soon, try hunting down a few cans for your next adventure. You can also find 14er Brewing in local restaurants and bars. They're fairly new, so the options will continue to expand as long as you help local brewers and drink local.
14er Brewing – Denver, CO
2801 Walnut St
Denver, CO
p. (720) 773-1437